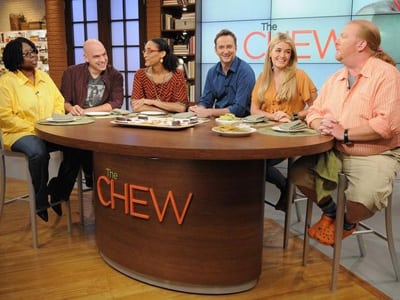 (SoapOperaNetwork.com) — A few weeks ago an insider informed us that a 1.7 is the lowest acceptable point a daytime program can reach in households before television networks begin to worry about the future of the program on their daytime schedules (ten years ago it was a 2.7). After four days on the air, "The Chew" has hit that benchmark.
According to Marc Berman of TV Media Insights, "The Chew" had a 1.7/6 household rating/share point for its Thursday, September 29 telecast – the show's fourth episode on the air. "The Chew" is down 14% in households and one share point from what "All My Children" had pulled during the same point last year (September 2010) and is down a whopping 36 percent and three share points from its local ABC affiliate lead-in averages (predominantly "Who Wants to be a Millionaire"), which averaged together was a 2.8/9 2.6/8.
"Chew's" Four Day Performance is as follows:
Monday 9/26 – Lead-in: 2.9/ 9, The Chew: 2.1/ 7
Tuesday 9/27 – Lead-in: 2.8/ 9, The Chew: 1.8/ 6
Wednesday 9/28 – Lead-in: 2.7/ 9, The Chew: 1.8/ 6
Thursday 9/29 – Lead-in: 2.6/ 8, The Chew: 1.7/ 6
What's interesting to note is that "Chew's" rapid fall is a direct result of the lead-in programming from the ABC affiliated stations across the country more so than the program itself, at least based on numbers alone. Could it be that viewers that tuned into the ABC lineup before the start of "All My Children" were also viewers of ABC's local programming, but with "AMC" no longer on the air the viewers are just not tuning in? We won't know the answer to that question based on just one week of ratings data, but if we see this trend continuing during the all important November sweeps period, ABC may have some big problems on their hands.