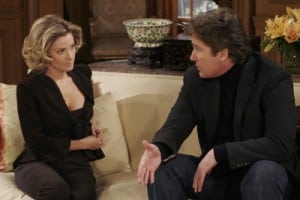 (SoapOperaNetwork.com) — "All My Children" Episode Recap – Wednesday, September 14, 2011.
IT HAPPENED TODAY…
Colby tells Maya she needs to make a decision about Lucy sooner than later. She reflects on her and her mother losing baby Stuart. Not wanting to prolong the inevitable and in turn cause the Hubbard's more pain, Maya makes a difficult decision. Angie supports a grateful Maya when she arrives to take Lucy and move out. Colby asks Liza if Maya can move in with them. Liza runs into a broken Jesse at Ellie's grave.
Caleb tells Liza he's interested in her and wonders if the feeling is mutual. He apologizes for his forwardness and blames Asher. Liza gives Caleb the answer he wants.
Colby is delighted when it becomes apparent Asher is still very much interested in a future with her.
Liza tells David she will not defend him in court but offers him some moral support. She hopes that he can eventually become self-aware about the things he's done. Dixie has a dream about Babe. She believes David has the key to saving JR: Babe. Tad and Dixie arrive at the station to confront David. David tells them there's no way he would sacrifice his daughter for their son and leaves them hanging. David rages at Tad and Dixie for not defening him against Ryan and Zach. An appalled Dixie sets David straight about his delusions about himself. Angie is determined to make something good come out of everything awful that's happened and tells Jesse she will get David to spill the truth about Babe.
Tad and Dixie make love.
On the Next All My Children…
Tad advises Jesse not to give up on Angie.
Cara tells David shocking news.
Will JR leave Pine Valley?