Tuesday, November 9, 2010 at 6:07 PM ET by
Errol Lewis
---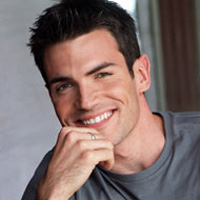 Aiden Turner
Photo: Yolanda Perez/ABC
(SoapOperaNetwork.com) — Two months after it was announced that Andy Whitfield was unable to return to work on a new season of "Spartacus: Blood and Sand" after he learned that his cancer had returned, Deadline.com is reporting that Starz Entertainment has narrowed their search for a replacement down to three actors – one of whom includes "All My Children" alum Aiden Turner. Turner, best known for his role as Aidan Devane on ABC's "All My Children" joins actors Stephen Amell and Liam McIntyre who are all vying for the title role in the hit Starz series, which averaged 980,000 viewers through out the course of its 13 episode first season earlier this year.
According to Deadline, the actors will be flown to New Zealand for screen tests and to meet with the show's cast and crew. A final decision is expected as early as this week on who will take over the role.
Turner became a household name in March of this year when he joined the cast of "Dancing with the Stars" for the shows tenth season. He performed alongside Edyta Sliwinska. The duo were eliminated during the shows third week. The actor starred on "All My Children" from June 2002 through December 2009.
Stephen Amell portrayed the role of Adam in the first season of the here! series "Dante's Cove." He was replaced in season two with actor Jon Fleming. McIntyre most recently appeared on the HBO series "The Pacific" and is best known for his role in the hit Australian series "Neighbours."
"Spartacus: Blood and Sand" will return to the airwaves with its second season in September 2011. "Spartacus: Gods of the Arena," a prequel to "Blood and Sand" debuts in January 2011.
All My Children
ABC
Aiden Turner
Andy Whitfield
Stephen Amell
Liam McIntyre
Edyta Sliwinska
Jon Fleming
Spartacus: Blood and Sand
Spartacus: Gods of the Arena
Dante's Cove
The Pacific
Starz
Here!