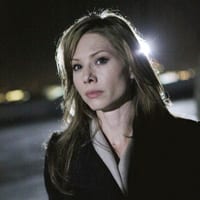 (SoapOperaNetwork.com) — ABC's first successful crime procedural in years enjoyed its highest rated episode ever with an appearance by daytime star Sarah Brown (Sandy Sommers, "The Bold and the Beautiful").
The Monday, January 25 episode of the series entitled "The Third Man," garnered a 7.4/12 in Households and a series high performance iin Adults 18-49 with a 3.1/8. According to ABC the series also achieved series highs in Adults 18-34, Men 18-34 and Men 18-49. In total, the episode was seen by 10.5 million viewers. Ratings information is based on Live+SD (Soure: Nielsen Media Research).
In the episode, Brown portrayed the role of Amanda Livingston, who found herself in an awkward position while on a date with novelist Rick Castle (Nathan Fillion, ex-Joey Buchanan, "One Life to Live"), who paid more attention to a case he was working on with Kate Beckett (Stana Katic) then he did on Amanda. In the end, Amanda found herself clicking with another man!
"Castle" is a production of ABC Studios and Beacon Pictures.