Wednesday, August 5, 2009 2:44 AM ET | By Scotty Gore
---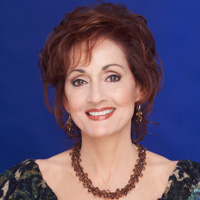 (SoapOperaNetwork.com) — After more than a month of rather vocal tug-of-war negotiations with ABC, "One Life to Live's" Robin Strasser tells her fans to "Picture me on your TV. I'm signing the contract, yay for me. I will be with you for years to come."
Despite recently being offered a "take-it-or-leave-it" contract by ABC, which included a hefty 63% paycut for the popular soap vet, Strasser announced earlier this evening on her telephone hotline
"Screw the pay cut. Full steam ahead. It doesn't matter. Life has been very good to me. I have been very blessed. I've been diligent, I've been careful, I've been many, many things, [but] not ever the highest paid."
"My dear friends, a heart attack has been averted. It is my pleasure to announce that I've said yes. Yes! What did I say affirmatively yes to? The whole deal of continuing to play Dorian. I can't allow it to be about money. It's paycut time. Daytime is hanging on a thread… I believe that; I get it," the actress cheerfully proclaimed to fans.
Strasser's new deal was nearly overshadowed by ABC's afternoon press release indicating that "All My Children" was moving production to Los Angeles at year's end, and that "One Life to Live" would be taking over its sister soap's soon-to-be-vacated New York City studios.
Commenting on the move, Strasser noted just how much larger the "AMC" studios are compared to those of "OLTL." "When I did crossover and appearances on 'AMC,' I was ravaged with jealousy. Their real estate is so superior. Their big building. Everybody has big dressing rooms. The hallways have windows with views of the river…"
Futhermore, Strasser tells Soap Opera Digest that "I will say for the record that I called Frank [Valentini, 'OLTL' executive producer] at about 3:15 yesterday. I said, "Frank, Frank, I hope you're happy to hear this but I can't, I can't…I have to say 'yes'. Whatever ABC wants to pay me is okay, I just love what I do and I can't continue in this holding pattern. 'Yes, I'm in, I'm in. Send me a contract, I'll sign it.' He said, 'Okay. That's great. I'll call legal and we'll close this up.' And then I said, 'So what about the rumors?' He said, 'Well, it's a secret until 5 o'clock today.' " Now this was at 3:15. He said, 'All My Children' will move to L.A. and 'One Life to Live' will move into their studio." I almost screamed into the telephone bursting an eardrum on the man. I'm trusting and wishing the best for 'All My Children.' They've got some great real estate they're moving to in LA. And there's a lot of great opportunities for renting and buying the personal residences. And then our show apparently is going to get at least 30-50 percent more studio space so that our big concept productions and efficiency can be ramped up. Frank has found better and better ways to make a great show but does it cost effectively because if we don't do it that way we'll be joining 'Guiding Light.' I'm so proud to be part of that solution."

Strasser, a Daytime Emmy Winner and two time Soap Opera Digest Award recipient, has portrayed Dorian Cramer Lord on and off since 1979. In 2000, she was fired from "OLTL" after suffering a major falling out with then Executive Producer Jill Farren Phelps, and did not return to Llanview until 2003, once Phelps had left the show. In addition, Strasser took the character of Dorian to "AMC's" Pine Valley in a handful of episodes between 2003 and 2005. Other soaps credits include Iris Ocasek on "The Secret Storm" (1964-66), Rachel Davis Matthews on "Another World" (1967-72) and "Somerset" (1970), Dr. Christina Karras on "All My Children" (1976-79), and the 300-year-old witch Hecuba on "Passions" from 2001-2002.
To listen to Strasser's full message on her hotline, call (212) 414-5300.
"One Life to Live" airs Weekdays on ABC. Weeknights on SOAPnet. Check local listings.
---
Discussion: Robin Strasser Re-Signs with 'One Life to Live'
---