Monday, August 3, 2009 1:47 AM ET |
By Venus Stone
---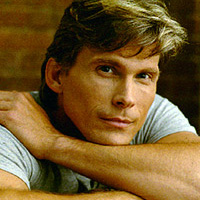 (SoapOperaNetwork.com) — A father learns the truth…
THIS WEEK ON: GUIDING LIGHT
Mallet comes to the realization that he made a huge mistake, Monday, August 3. On Wednesday, August 5 Jonathan come back to Springfield. Buzz takes the law into his own hands.
The Inside Story: A Father's Sudden Change of Heart

Alan learns from Phillip that the cafe they are at is owned by the widow of the man who took Alan's place in Vietnam. Upon hearing this information, a stunned Alan runs out of the cafe, needing time to absorb it all in. When Phillip finds him, he tells his father he believes now that they are there, he can tell the truth and ask for forgiveness. Alan, however, admits that he's scared to go back and face the past. Eventually he relents and goes back to introduce himself to Charlie. Alone, Phillip calls Ed and leaves a message to call back regarding the blood work.. Meanwhile, Alan, who is alone, sees that Ed is trying to contact Phillip and answers the call. Pretending to be his son, Alan learns from Ed that the results of the test aren't good, which means the experiemental treatment may not work. Ed insists that he needs to tell his loved ones that he is dying. Once Phillip returns Alan begins to see his son in a different light. Alan admits that he took Ed's phone call and he knows everything. When Phillip explains further regarding the disease, Alan suddenly grows suspicious and accuses his son of lying. He points out that Phillip doesn't get to call the shots in fixing everyone only to die later. Leaving Phillip alone, Alan runs into Charlie, who kindly thanks him for telling him about his father.
A Closer Look: Runaway Bride
Ready for her wedding, Dinah dressed in her wedding dress is excited; while Shayne is awaiting her arrival with flowers. Taking each other's hand, they walk together to the wedding as Shanye describes what a wonderful life they have together. Alone, Reva talks to Jeffrey's picture, admitting she's doing a pretty good job at putting on a brave face. Billy and Vanessa discuss how weddings seem to be in the water these days. Remy, who is at the wedding notices that Mallet is edgy and questions what's going on, but their conversation is halted when Dinah and Shayne arrive. Remy kindly asks Dinah if she would let him walk her down the aisle. The wedding begins and Doris soon pronounces them husband and wife. Things meanwhile grow tense between Marina and Mallet, who accuses her of keeping things from him. He later tells Remy that he's taking his wife in for questioning. Dinah, over-hearing their conversation pulls Mallet to the side and tells him he can't arrest his wife; she's the one that killed the man. A stunned Mallet listens on as she explains what happened, both unaware that Frank is listening in on their conversation. Dinah is ready to be taken to jail but Mallet tells her that she needs to finally live a life. Later on that evening, Shayne and Dinah are alone together and she admits that she fears she's not who he thinks she is. Shayne reassures her things between them will be wonderful. At the station, Frank informs Mallet he's heard everything that Dinah confessed to him; Mallet wants to give Dinah her time alone with her husband but Frank tells him he needs to bring her in immediately. Mallet calls Dinah and tells her that Frank knows everything and tells her he's going to do whatever he can to help her; even if it means getting her out of Springfield.
What To Watch
Edmund returns very much alive
Shayne turns to an old friend for comfort
Guiding Light News and Headlines
Dorothy Lyman, Emmy award winning actress, will come to the show as 'Joanne' Monday, August 3
Del Pentecost appears as "Charlie" to make Alan face his past Tuesday, August 4
Tom Pelphrey returns to the show as 'Jonathan Randall" on Wednesday, August 5
David Andrew MacDonald returns as "Edmund" on Friday, August 7
Fiona Hutchinson reprises her role as the ghostly "Jenna"on Thursday, August 13
Jessica Leccia returns as "Natalia" Monday, August 17
Maureen Garrett comes back to Springfield as 'Holly Lindsey-Reade. She returns to the show Wednesday, August 26
Guiding Light will donate a portion of its wardrobe to New York's Bottomless Closet to help economically disadvantaged New York City women enter and succeed in the workforce. Guiding Light will provide the organization with the show's stock of women's business appropriate clothing, shoes, jewelry, handbags and accessories. Please visit Bottomless Closet or call 212-563-2499 for more detailed information.
Frank Dicopoulous ("Frank Cooper") will be the honorary chairperson for FAAN Walk for Food Allergy: Moving Toward a Cure in Long Beach, NJ on Saturday, September 12. Please visit FAAN for more detailed information.
Murray Bartlett ("Cyrus") and other daytime stars will set sail on Soap Cruise, the Third Voyage on Thursday, January 28 until Monday, February 1, 2010. Please visit Soap Cruise or call 1-888-381-4654 for more detailed information.
SON Top 10: Who was the best of the best on "GL" during the week of July 27, 2009? You decide! The SON Top 10 is back! Voting begins Friday's at 4:00 PM, EST.
SON ALERTS: WEEK OF AUGUST 10, 2009
Daisy and James get closer than they realize
"Guiding Light" airs Weekdays on CBS. Check local listings.
---
---
You may not reproduce content without written permission from author.

© 2009 Soap Opera Network. All rights reserved.
Discussion: GL PreVUE: Week of August 3 Edition