Friday, August 7, 2009 8:00 AM ET |
By Angela Rosa
---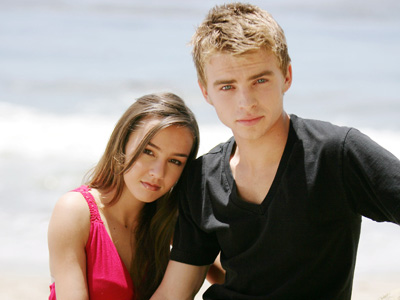 Photo: John Paschal/JPI
(SoapOperaNetwork.com) — Speak now or forever hold your peace.
THIS WEEK ON: GENERAL HOSPITAL
Maxie "accidentally" accepts Spinelli's proposal on Monday, August 10. Maxie's slip of defiance takes on a life of it's own when Kate gets wind of the development. Sick of all the fighting, Sonny and Claudia decide it's time to make a change. On Tuesday, August 11, Kate's observation makes Olivia bristle. Robin is on a mission on Thursday, August 13. Rebecca is in love. A jealous Ethan tells Lucky the real story on Wednesday, August 12. Lucky and Elizabeth struggle to make the right decision. Rebecca decides to tell Nikolas the truth after being real with Elizabeth on Friday, August 14, but is she too late to be the bearer of the bad news? You betcha.
The Inside Story: Panic Room(s)
Michael and Kristina realize just how dire their situation is when they try to leave Jerry's apartment. Jerry sends a frantic Jason on a wild goose-chase to find Sam. The detective ends up in dire jeopardy as a result of Jerry's twisted game on Monday, August 10. Michael formulates an escape plan. Kristina is frozen in place as Michael begins to lose his fight with the guard on Tuesday, August 11. Jason and Jerry engage in a deadly standoff. Jerry taunts a trapped Jason. On Wednesday, August 12, a diabolical Jerry leaves Jason for dead after bragging that he tricked him and Sonny into blaming a completely innocent Claudia for Michael's shooting. Michael and Kristina head to bus station after managing to get out of the apartment. On Friday, August 14, a hallucinating Jason clings to life. Sam finds Jason.
A Closer Look: Undercover Cop
Dominic sends Johnny away and takes the fall when the cops arrive on the scene while they're in the middle of putting a stop to a Zacchara drug shipment on Monday, August 10. Mac and the new A.D.A are optimistic that they'll finally be able to bring Sonny down after learning the truth about Dominic. Olivia learns that Dominic has been arrested. Ms. Falconari surprises her son when she follows him to a meeting pertaining to his undercover assignment on Wednesday, August 12. Dominic insists to Olivia that he's not going back to Brooklyn or dropping his assignment to take Sonny down. Dominic rescues Morgan from a menacing Keifer on Thursday, August 13. Carly notices the resemblance between Morgan and Dominic as she contemplates the idea of letting Morgan attend a baseball game with his "hero." Johnny witnesses another odd scene between Olivia and Dominic. Jax orders Dominic to stay away from his family on Friday, August 14. Olivia goes over Dominic's head in an attempt to get him reassigned.
General Hospital News and Headlines:
GH ALERTS: WEEK OF AUGUST 17, 2009
"General Hospital" airs Weekdays on ABC. Weeknights on SOAPnet. Check local listings.
---