Sunday, July 5, 2009 1:18 AM ET | By Venus Stone

---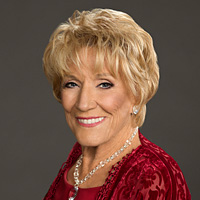 (SoapOperaNetwork.com) — A return worth explaining…
THIS WEEK ON: THE YOUNG AND THE RESTLESS
Heather gets the taste slapped out her mouth by a furious Phyllis, on Tuesday, July 7. That same day Nick decides to break the law. Phyllis decides to go to Sharon for a listening ear on Wednesday, July 8.
The Inside Story: A Homecoming Unexplained
After the shock of learning that Cane has lied to all about being Jill's son, they are even further floored when the real Phillip enters very much alive and well. Katherine filled with shock and disbelief falls to the ground and is quickly rushed to the hospital. Olivia, who's on call instantly takes charge and learns that Katherine has had a stroke. Meanwhile back at the Chancellor estate, everyone still wants answers from both Phillip and Cane. Phillip explains that at the time of his 'accident' he was not only an alcholic but also in a depressed/suicidal state; deciding to end it all by arranging to kill himself in the car. He goes on to tell all how he came upon Cane in Australia and made arrangements for him to pretend to be him. Billy, who has happened upon the revelation with Chloe, decks Cane. Cane soon admits to Billy and Chloe that he knew that Billy was always the father of Cordelia; stating that at the time of the paternity test, he used Phillip's blood when making the determination of who the baby's father was. Lily, along with Neil, is furious that Cane has been lying to her for years. Cane tries in vain to get Lily to understand that in all the times that he has been with her, he not once lied about his feelings for her. Unwilling to listen to anything he has to say, Lily snatches off her wedding ring and gives it to him, while Neil warns him to stay away from his daughter; or else. Once alone with Phillip, a furious Cane demands to know why Phillip suddenly decided to come back to Genoa City after all.
A Closer Look: Demented and Dangerous
Doing her best to keep her true identity underwraps, Mary Jane works hard at keeping her enemies in line. Mary Jane, arriving at the hospital, peeks in on a comatose Summer and sits by her bedside 'talking' to her on how everything will work out as she hopes. Victor, who is also at the hospital spots Mary Jane in his granddaughter's room and instantly tells the woman to leave her alone. Back at her office, Heather, thanks to Mary Jane's lies, works hard to figure out how she intentionally came in contact with peanuts. Victor, who is beginning to wonder about Mary Jane, heads over to her suite at the G.C.A.C. When he arrives he finds himself looking at a collage of photos of Jack, Sharon and Phyllis. The minute Mary Jane returns to her suite she is stunned to find him there and begins to question why he snuck into her room. Keeping his cool, Victor announces to her that he thinks that a trip out of town for a bit would do her some good.
What To Watch
Sharon is plaqued by a guilty conscious
Someone may be on to Victor
Amber may not like her past coming back to life
The Young and the Restless News and Headlines
"Ed Stanley will appear on the show as 'Summer's' doctor on on Friday, July, 10
Steven Richard Harris will reprise his role as 'Aidan' the bartender that had a tryst with Jill. His airdates are Tuesday, July 14 and Wednesday, July15. For more information on Steven Richard Harris, go to the latest news here on Soap Opera Network.
John Driscoll will appear as the long awaited 'Phillip Chancellor IV' on Thursday, July 16
Actress Vail Bloom, who plays legal eagle 'Heather Stevens' will make an appearance on the hit HBO series 'Entorage' Sunday, July 26.
Congratulations are in order for onscreen and offscreen married couple Thad Luckinbill, 'JT Helstrom' and Amelia Heinle, 'Victoria Newman Helstrom' who are expecting another addition into their family. Word is that the couple will be welcoming a baby girl this time around.
SON Top 10: Who was the best of the best on "Y&R" during the week of June 29 – July 3, 2009? You decide! The SON Top 10 is back! Voting begins Friday's at 4:00 PM, EST.
SON ALERTS: WEEK OF JULY 13, 2009
Adam and Mary Jane join forces
Colleen comes back home and finds herself in close quarters
Nina's son comes back home
"The Young and the Restless" airs Weekdays on CBS. Weeknights on SOAPnet. Check local listings .
---
Discussion: Y&R PreVUE: Week of July 6 Edition
---
The Young and the Restless
CBS
John Driscoll
Jeanne Cooper
Thom Bierdz
Jess Walton
Spoilers