Sunday, July 5, 2009 10:37 PM ET |
By Venus Stone
---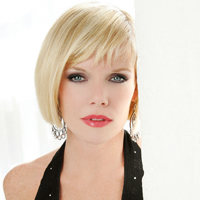 (SoapOperaNetwork.com) –Out of control…
THIS WEEK ON: AS THE WORLD TURNS
Tom begins to dig into Riley's background on Monday, July 6. That same day, Liberty and Parker slowly rebuild their friendship. Lily and Dusty work together to get the goods on what happened to Damian's boat, Thursday, July 9.
The Inside Story: Hitting Rock Bottom

With her wedding quickly approaching, Carly is a basket of nerves when she can't come up with an idea on how to design her dress. Desperate, Carly heads to Fashions and buys a dress, quickly cutting the tags in order to pass it off as something she made. Shortly after, Rosanna arrives at Carly's and spots the dress. Carly quickly covers but is later busted when they head back to Fashions where Rosanna spots the exact same dress. Rosanna realizing that Carly is not being honest with her begins snooping at her house and finds the cut tags along with alcohol hidden throughout her home. When confronted Carly quickly lies and tells her it's only on ocassion but Rosanna tells her she doesn't believe her. Upset by this, Carly hustles her sister over to Margo and Tom's to join everyone else for the wedding. The minute Ro leaves, however, Carly puts on her dress and instantly starts in on the drinking; even knocking more back inside the limo. At Tom and Margo's Rosanna lays into Craig for turning a blind eye to Carly's drinking, unaware that she has arrived and has heard everything. Upset and humiliated at being discussed, Carly turns back around and gets into the limo and starts drinking again. Everyone realizes that Carly hasn't arrived and Craig covers his feelings. Carly, in the meantime, has found her way over to Lily's but finds herself face-to-face with Holden, who tries his best to be there for her. Upon her request, Holden takes her to the Wagon Wheel where she comes on to him and it is then Holden realizes how drunk she is Things get bad for Carly when she passes out and has to be taken to the hospital by Holden and Jack, who he called for assistance, and learn that her stomach had to be pumped due to alcohol poisoning. Rosanna and Craig arrive shortly after to see about her. While there, Rosanna pulls Jack asside and tells him that he needs to be the one to help her with Carly. Jack, unfortunately doesn't want to get in the middle since Janet has fussed in the past about his being Carly's knight in shining armor.
A Closer Look: Letting Go
After dealing with everything going on with his father, Noah and Luke both agree that it is time to move in with one another. While packing Noah discovers a box of things belonging to Col. Mayer and he freaks out leaving Luke concerned. Damian arrives and talks to Luke about what's going on with Noah and the two go in search for him. When they find him, Noah confides in Damian, letting him know that it's hard to forget his dad and all the things he has done. Feeling for the young man, Damian makes the suggestion that he burn his father's belongings as a ritual to him.
What To Watch
Hunter's meeting with Susan hits a huge snag
Katie has had enough of Henry's antics
As the World Turns News and Headlines
Congratulations to Maura West ('Carly') and husband Scott DeFreitas newest edition to the family. Birdie West DeFreitas arrived, Tuesday, June 16 at 5:33 PM, weighing 7 lbs 13 oz.
Vanessa Ray will come to the show as 'Teri Ciccone', Janet's sister. She will arrive on the show at the end of July
Lynn Herring will join the show as 'Henry Coleman's' mom, Audrey. Herring's first airdate is Friday, July 24
Michael Woods will appear on the show as 'Jay', the boyfriend of 'Audrey'. His first airdate on teh show will be Friday, July 31
Austin Peck and Julie Pinson will join other daytime stars as they set sail on Soap Cruise, The Third Voyage on Thursday, January 28 throughMonday, February 1, 2010. Please visit Soap Cruise or call 1-888-381-4654 for more detailed information.
SON Top 10: Who was the best of the best on "ATWT" during the week of June 29 – July 3, 2009? You decide! The SON Top 10 is back! Voting begins Friday's at 4:00 PM, EST.
SON ALERTS: WEEK OF JULY 13, 2009
Meg sees Paul in a new light
Bonnie is the one to give Dusty hope
Rosanna and Craig come to Sage's aid
"As the World Turns" airs Weekdays on CBS. Check local listings.
---
---
You may not reproduce content without written permission from author.

© 2009 Soap Opera Network. All rights reserved.
Discussion: ATWT PreVUE: Week of July 6 Edition
---