Tuesday, June 9, 2009 8:37 PM ET |
By Errol Lewis
---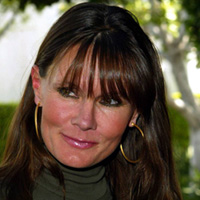 (SoapOperaNetwork.com) — Lynn Herring (ex-Lucy Coe, "General Hospital"; "Port Charles") is making her highly anticipated return to daytime television next month when she joins the cast of CBS' "As The World Turns" in the recurring role of Audrey, reports TV Guide Magazine. Audrey is the mother of Henry Coleman (Trent Dawson).
Fans can expect to see Herring on "World Turns" for up to eight weeks according to comments from Executive Producer Chris Goutman. "Chris Goutman said the main story is six-to-eight weeks long and then we'll see what happens after that. If it ends there, I will love it and be appreciative. If it goes on, I can't lose."
Her appearance on the soap reunites her with former "Port Charles" co-stars Jon Lindstrom (ex-Kevin Collins, now Craig Montgomery) and Julie Pinson (ex-Eve Lambert, now Janet Ciccone Snyder).
Since the cancellation of "Port Charles" in 2003, Herring left the industry for small town America and hasn't looked back. "It sounds hokey but people are so nice here. We've been ranching up in this area for 20 years. The kids knew it from living here in the summers, but it was still a huge culture shock to leave L.A. after 'Port Charles' ended and make a permanent move to such a remote area."
In 2004, after the death of actress Anna Lee, "General Hospital" paid their respects to the actress and rested Lila Quartermaine, a character she portrayed for 26 years. Herring returned for that special episode as Lucy, but wasn't been asked back by show producers. Why you ask? "The show had gone in a whole new direction with Sonny and the Mafia and they've done very well by that. I knew Lucy wouldn't fit into that. Her high jinks and her comedic vixeny thing didn't seem to match with that serious tone, so it didn't bother me not to be asked back. I understood."
Herring is married to former "Days of our Lives" star Wayne Northrop (ex-Roman Brady; ex-Alex North). Her first airdate on "As The World Turns" is scheduled for Friday, July 24. In case you were wondering, the soap tapes nearly two months before airdate, which means the actress started taping last week.
To read the full interview, head on over to the TV Guide Magazine website.
"As The World Turns" airs Weekdays on CBS. Anytime on CBS.com. Check local listings.
---
Discussion: Lynn Herring Heads to Oakdale
---
General Hospital
As The World Turns
Lynn Herring
Wayne Northrop
Chris Goutman
Port Charles