Friday, June 12, 2009 8:00 AM ET |
By Angela Rosa
---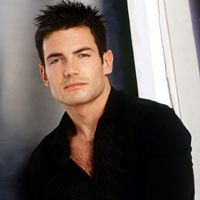 (SoapOperaNetwork.com) — Playing wicked games.
THIS WEEK ON: ALL MY CHILDREN
A bitter Frankie pushes his family away on Tuesday, June 16. Kendall tells Zach that she wants to re-establish their living arrangement with Ian coming home and later tells Ryan the news. A conflicted Kendall makes a quick exit when Ryan reaches out to her. A mystery person places a call to Ryan, who finds himself deep in thought about Greenlee after a visit from Jack. Taylor and Brot acknowledge their relationship has changed and not for the better on Thursday, June 18. Brot later spies Taylor enjoying herself with Tad. Zach and Kendall bring Ian home from the hospital. Kendall puts a stop to Zach and Ryan's arguing. Frankie allows Randi to feed him and later agrees to have another surgery for his hands. Marissa opens up to JR about her parents' death. On Friday, June 19, Zach and Kendall come up with a plan of action against North. North, meanwhile, presses Jesse to get him the evidence to make sure he gets his conviction against Mrs. Slater. JR and Marissa continue to grow closer.
The Inside Story: Bad Plans
Unable to explain how her baby bump survived Tad's game of darts, Liza tells Martin the truth. Tad tells Liza that he believes no parent, even someone like David, should be duped into believing their child has died. Liza pleads her case to Tad. Krystal and Marissa worry about what David will do should he lose another child. Amanda says an emotional goodbye to her son on Monday, June 16 and hands him over to Jake to carry out their plan. David finds a heartbroken Amanda after barging into the Barbados' clinic room. Jake tells David his son died during labor but is not prepared when Hayward demands to see the body. Liza goes off the deep end when Jake calls her with potentially bad news and takes off to see Zach. Amanda convinces a crushed David that their son died on Tuesday, June 16. Jake calls a pleased Liza with the news that everything's back on track. Jake's reassurance about her son's future does little ease Amanda's heartache. A drunken David rejects Marissa's attempt to comfort him but does agree to let an understanding Krystal take him home. David is arrested for DUI after he and Krystal end up in a car accident. Krystal appears to be fine but later collapses in Tad's arms. David is desperate to get to Krystal. Krystal can see David loves her but resists the urge to be drawn back in on Thursday, June 18.
A Closer Look: Blind Justice?
Ryan confronts Aidan after getting the truth from Emma. Aidan denies being Annie's "guardian angel," and tells Ryan he believes Annie should be locked up for good. Adam explains to Ryan that he's going to stand by Annie through thick and thin because she saved his life. Adam rages at Kendall, accusing her of murder. Annie tells Adam she doesn't believe Kendall killed his brother and pulls him into a surprising kiss on Tuesday, June 16. Liza agrees to act as Annie's attorney after Adam agrees to assist her with the whole Colby situation. Ryan has it out with Liza after finding out she's defending Annie. Erica tells Adam in no uncertain terms that she's going to make sure Annie rots in jail on Wednesday, June 17. Ryan refuses to help Liza build her case for Annie's defense. Liza proves to be a shark in the courtroom. The judge agrees to sentence Annie to house arrest, and Adam quickly offers up his mansion. On Friday, June 19, Adam tells JR that he and Little Adam will have to find a new place to live since Annie isn't allowed around any minors until her sentence is completed. Erica and Ryan are outraged by the turn of events.
All My Children News and Headlines:
AMC ALERTS: WEEK OF JUNE 22, 2009
On Monday, June 22, Annie lets Aidan know that she no longer has any need for him now that she has Adam. (ABC Soaps In Depth)
North and Randi share a very intimate past, one the married D.A. wants desperately to rekindle. (TV Guide Canada)
Zach and Kendall put their plan in motion on Tuesday, June 23. (TV Guide Canada)
Erica pushes Annie's buttons with a little help from Ryan; but it's Annie who may ultimately come up with the upper hand on Wednesday June 24. (ABC Soaps In Depth)
"All My Children" airs Weekdays on ABC. Weeknights on SOAPnet. Check local listings.
---