Friday, May 1, 2009 8:00 AM EST |
By Angela Rosa
---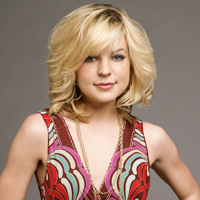 (SoapOperaNetwork.com) — Heat wave.
THIS WEEK ON: GENERAL HOSPITAL
Olivia holds her ground with Sonny on Monday, May 4. Sonny's interest in personally returning Olivia's property perturbs Claudia. Ric rushes Claudia to the hospital after she's stricken with abdominal pains. Sonny opens up to Olivia about his relationship with Claudia. Sonny and Claudia share a close moment after learning the baby is fine on Tuesday, May 5. Luke hopes Ethan turns out to be his son but Ethan doesn't feel the same way. Patrick and Jax disagree over whether or not Michael's surgery can wait. On Wednesday, May 6, Lucky becomes upset over the possibility that Luke could be Ethan's father. Sonny and Jax support Carly's decision to have Michael operated on immediately. Sonny, Carly, Claudia, Jax and Jason sit vigil as Patrick and his team begins Michael's surgery. Luke and Ethan get the results of the DNA test. Michael suffers a crisis on the operating table. Sonny and Carly's anxiety grows. A suspicious Luke asks Lulu to cozy up to Ethan in front of Tracy.
The Inside Story: Love & Lust
Rebecca tells Nikolas the truth about her and Lucky's encounter. Nikolas pulls Rebecca into a passionate kiss after she admits that she's attracted to him. Lucky and Elizabeth confess that they still have feelings for each other. The ex's both take responsibility for their past problems and decide to make another try at their relationship. Rebecca pulls back from sleeping with Nikolas, leaving the prince extremely frustrated. Nikolas is thrown by the site of a stranded Rebecca in Emily's nightgown. Rebecca comforts Nikolas after he's shaken awake by a dream of Emily. Rebecca enlists Nikolas help in painting her room at Kelly's. Thing once again reach a simmer between the pair after Nikolas strains his back helping Rebecca move furniture on Thursday, May 7. Mike interrupts Nikolas and Rebecca just as they're about to have sex. Alexis warns Nikolas not to trust Rebecca. Nikolas finds Alexis offering Rebecca a bribe.
A Closer Look: Forgive & Forget?
Johnny comes to Maxie's rescue when she's attacked for real. Maxie explains to Spinelli that despite her attraction to Johnny he is the one she really wants. Spinelli learns the truth about Maxie's ruse. Maxie pours her heart out to Spinelli who rejects her. Spinelli accuses Maxie and Lulu of lying when they claim they need his help to solve a crime at Crimson. Maxie is crushed when Spinelli ends up taking the case only for Lulu's sake. Spinelli insists that he can locate the mole who's been leaking confidential information at the magazine. Maxie puts her career on the line in support of Spinelli's claim. Spinelli and Maxie's stakeout takes a wrong turn when the pair ends up so hot and heavy that they don't see their suspect on Friday, May 8.
General Hospital News and Headlines:
GH ALERTS: WEEK OF MAY 11, 2009
Ric reminds Claudia that her fate is dependant on whether a struggling Michael lives or dies. (Soap Opera Digest)
Carly collapses in Jax's arms. (National Enquirer)
"General Hospital" airs Weekdays on ABC. Weeknights on SOAPnet. Check local listings.
---