Friday, April 17, 2009 10:14 AM ET |
By Scotty Gore
---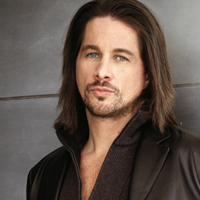 (SoapOperaNetwork.com) — Who framed John McBain?
THIS WEEK ON: ONE LIFE TO LIVE
Rays confesses to Dorian how he really feels about her on Wednesday, April 22. He then calls Dorian on the reason she keeps making excuses as to why she hasn't gone to visit her husband. Meanwhile, David drops by for a visit and is anxious to hear her answer as well. Later, David and Dorian decide it is time to end their relationship. Ray invites Dorian to a night out on the town. Brody prepares to make a confession to Jessica, with Gigi's support. Schuyler watches as Stacy throws something into a refuge container and later decides to investigate, where he discovers a container of Stacy's blood. Elsewhere, Shane appears to be on the road to recovery, prompting Roxy to talk Gigi into coming clean to Rex. However, as she prepares to let the cat out of the bag, Shane suddenly has a relapse on Monday, April 20. Fortunately, Shane soon recovers, but Stacy reminds Gigi of their pact. Meanwhile, Roxy is shocked by what she learns while visiting Rex's supposedly comatose father. Schuyler demands answers from Stacy. By Friday, April 24, Gigi regains the nerve once more to tell Rex the truth, but chickens out after jumping to the wrong conclusion about Rex and Stacy. At the same time, Kyle demands Roxy provide him free room and board in exchange for his silence.
The Inside Story: To Catch a Killer, You Have to Think Like a Killer
With Talia floating like a inflatable raft in Dorian's pool, John is afraid the KAD killer has struck again. Arriving on the scene, Fish gives his friend a chance to flee, but John orders him to call Bo. Mayor Lowell also visits the crime scene, and demands John be charged with murder on Monday, April 20. Bo and Nora react to news of Talia's demise. Téa drops by John's holding cell and the pair attempt to decipher who could be framing him. While the logical suspect appears to be Todd, Téa, John, and Marty have a difference of opinion concerning his guilt. On Tuesday, April 21, Mayor Lowell takes matters into his own hands and informs the press that the serial killer has been apprehended, much to Bo and Nora's anger. Across town, Viki warns Todd not to take advantage of Téa. But after learning of their night of passion, Viki realizes that Todd is still in love with Téa. Layla crys on Crisitan's shoulder after learning of Talia's death. Todd is as giddy as a schoolgirl over John's arrest, and plans to use it to his advantage. John informs Marty why he believes Todd is innocent. At the courthouse, Téa seduces Todd in an empty room in an attempt to prevent him from talking to a judge on Wednesday, April 22. Marty fires Téa as John's attorney after learning she slept with the enemy. Antonio says farewell to Talia for the final time. Vowing justice for his dead girlfriend, Antonio makes John a free man. On Thursday, April 23, Michael helps his brother say good-bye to Blair, who gives John her support. After breaking into his motel room, John quickly discovers that the killer has left his calling card. Back at the courthouse, RJ bumps into Téa. Two's company, but three's a crowd when Todd soon joins them as well. John prepares to hunt down a murderer, and reluctantly accepts Marty's offer to tag along. Unbeknownst to the sleuths, however, is the fact that the KAD killer is closer than anyone realizes.

A Closer Look: Teenage Angst
Lola is out for blood when Markko and Langston inform Dorian and Ray of what she has done. On Tuesday, April 21, Cole and Rachel have their first rehab session together. Lola takes advantage of the situation by confessing to Rachel how Cole talked Markko into taking his drug test. After sending Lola packing, Rachel confronts Cole with the accusation, and demands he be honest with her. Realizing he has hit rock bottom, Cole comes clean to Rachel about his continued drug use. A firm, but fair Rachel agrees to give the kid another chance. Tempted to take the rest of his pills, Cole gives them to Rachel. None to pleased that her daughter is Cole's drug counselor, Nora issues Rachel an ultimatum after learning of what Markko did for Cole. Rachel, however, argues to her mother that Cole deserves a second chance, just as she was given when she was on drugs. Lola causes even more trouble for Markko and Langston. Across town, Cole and Starr try to decide the next step in their quest to uncover baby Hope's true cause of death. On Friday, April 24, they turn to Kyle for help, asking him to run a DNA test on the lock of Hope's hair. And Cole begins to experience the symptoms of withdrawal.
One Life to Live News and Headlines
SON ALERTS: WEEK OF APRIL 27, 2009
Monday: Starr confronts Cole over drugs.

Roxy believes she has weathered the storm.

Brody and Jessica make amends.
Tuesday: Cole shares a secret with Starr.

Brody and Jessica 'get it on.'

Téa uses RJ to make Todd jealous, while Todd gets under Téa's skin. Langston and Markko make a big decision.
Wednesday: Todd and Téa square off in court.

Starr helps Cole kick his drug habit.

John visits someone in a mental hospital.
Thursday: John is shocked by what he finds.

Starr must leave Cole in his hour of need.

Matthew's accident brings Bo and Nora even closer.

Matthew sees Destiny in a new light.
Friday: John seeks Viki's help in catching the killer.

Cole fights his urges.

Marcie gives Bo advice about Matthew.
"One Life to Live" airs Weekdays on ABC. Weeknights on SOAPnet. Check local listings.
---
Discussion: OLTL PreVUE: Week of April 20 Edition
---