Wednesday, April 1, 2009 5:00 PM EST |
By Angela Rosa
---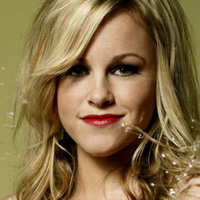 (SoapOperaNetwork.com) — My life would suck without you.
THIS WEEK ON: GENERAL HOSPITAL
Patrick rescues Robin from the water on Monday, April 6. Robin insists to a skeptical Patrick, Maxie and Matt that she was not trying to take her own life. Nikolas caters to Rebecca after her biopsy. On Tuesday, April 7, Patrick bristles as he spies Robin, who has wandered back down to the docks, in Jason's arms. Rebecca turns to Monica for advice. Robin takes Kelly's advice and calls to arrange a date with Patrick and Emma in the park only to find out that the duo is already there with Elizabeth. Robin walks away after seeing Patrick, Elizabeth and the kids in a seemingly family moment. Nikolas gives Rebecca a night to remember. Jason comes to Sam's aid when she runs into a major problem in getting her new business off the ground on Thursday, April 9. Nikolas and Rebecca share another kiss.
The Inside Story: Pregnant Pause
Jason supports Carly as she struggles to come to a decision about what to do for Michael. After finding him lurking in the shadows, Jason informs Ric that he's a dead man should he find out he's hiding any information about Michael's shooting. Carly talks to Sonny and then the specialist as she tries to come to a decision about Michael's future. Claudia warns Olivia not to mess with her. Claudia initiates sex with Sonny in the hopes of getting pregnant. Ric goes to Sonny to do damage control from his prior confrontation with Jason. Johnny is appalled when Claudia tells him what she's up to. Ric continues to menace Sonny's wife. Claudia overhears Jason telling Sonny that there's evidence that Ian wasn't acting alone when he shot Michael. Olivia wonders if Carly is pregnant after she suffers yet another dizzy spell. At the hospital, Carly grows suspicious when she sees Claudia consulting with Kelly. Jason shares his suspicions about Ric with Sonny. Scared for his life, on Friday, April 10, Ric throws Claudia to the wolves.
A Closer Look: Young Love
Maxie is not receptive to Matt's flirting and later balks when Lulu suggests that she attend the Crimson event with the doctor. Lulu makes a scene when Maxie suggests that she'll go to the event with Ethan instead of Matt. Kate casts the deciding vote: Maxie and Matt will attend the event together. Lulu's victory is short-lived as Ethan presses Lulu to stick to her story and go out with him. Tracy's wheels begin to spin after she sees Ethan's weathered photo of Luke and Robert in their younger days. Fearing that Ethan is Luke's son, on Wednesday, April 8, Tracy does her best to convince Lulu not to go on her scheduled "date" with the schemer. Maxie vows vengeance after Lulu convinces Kate to make Matt Maxie's permanent escort for public appearances. Tracy confronts Ethan. Lulu's heart breaks when Johnny confesses that he almost slept with Maxie. Remorse does little to stop Maxie from pulling Johnny into a kiss which Spinelli witnesses. Lulu doesn't get the reception she anticipated when she arrives at Ethan's motel room.
SON ALERTS: WEEK OF APRIL 13, 2009
Monday: Claudia narrowly dodges a bullet. Carly gets some upsetting news. An evil presence lurks in Port Charles.
Tuesday: Claudia scrambles to save her neck. The hospital's re-opening ceremony gets a very unwelcome guest. Tracy's suspicions about Ethan grow stronger.
Wednesday: Things take a major turn for Ric. The tension between Robin and Patrick hits an all time high. Alexis warns Nikolas that Rebecca might not be what she seems.
Thursday: Jerry tells Ric and Claudia that he's calling the shots. Nikolas wonders if Alexis could be right about Rebecca. Robin and Patrick try to get back on track.
Friday: Jax comes face to face with Jerry. Carly takes a pregnancy test. Maxie is hurt by Spinelli's rejection.
"General Hospital" airs Weekdays on ABC. Weeknights on SOAPnet. Check local listings.
---