Friday, April 17, 2009 8:00 AM ET |
By Angela Rosa
---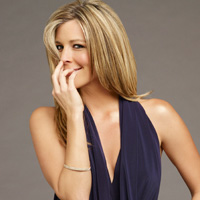 (SoapOperaNetwork.com) — Keeping my baby.
THIS WEEK ON: GENERAL HOSPITAL
Certain of her feelings, a bold Alexis takes Rebecca by the hair to reveal her plastic surgery scars. Patrick and Robin's problems disappear for a moment when they work in tandem to save their patient on Tuesday, April 21. Things soon turn sour, when the newlyweds return home and Robin can't bring herself to soothe a fussy Emma. Rebecca wants Nikolas to stay away from her. Luke is taken aback when Helena tells him that she's certain Ethan is his son. Helena leaves town after getting what she came for. Maxie is desperate to get Spinelli back in her life. Alexis gives Robin some sound advice. Tracy fears Luke is being suckered in by Ethan. Robin attends a therapy session with Patrick after he catches her in a lie. Robin's denial leads to tragedy. An unforgiving Rebecca keeps her date with Lucky much to Nikolas' chagrin on Friday, April 24.
The Inside Story: The Stork Report
Carly's joy about her pregnancy is tempered when she remembers her discussion with Kelly. Jason gives Carly a shoulder to lean on. Carly comes to the decision not to tell Jax about the pregnancy until after she's tested for the life threatening condition. Those plans go out the window when Jax suddenly arrives home and sees the pregnancy test stick. Carly doesn't have the heart to tell a thrilled Jax about the risks she may face if she goes through with the pregnancy. Jax confides in Alexis, telling her the good news about Carly and the bad news about Jerry. Carly undergoes the tests to determine whether or not she's at risk of developing the dangerous condition. Jason confronts Jax with the truth about Jerry. Jax implores Jason to keep the news from Carly so not to stress her out. Kelly gives Carly heartbreaking news on Thursday, April 23. Carly refuses to entertain the idea of terminating her pregnancy. Jerry feigns unconscious while Jax lashes out at him at the site of the explosion. Carly collapses when she learns about the injuries Jason sustained.
Claudia too learns that she's with child on Monday, April 20. The molls' relief is short-lived when her brother warns her that Sonny could easily deduce that she got pregnant because she is culpable in Michael's shooting. Thinking on her feet, Claudia leads Sonny to believe she's making arrangements to terminate an unwanted pregnancy. Sonny tells Claudia he doesn't want her to terminate her pregnancy. A stunned Alexis comes face to face with Jerry after walking into Sonny's place on Wednesday, April 22. Sonny tells Jason and later Carly about Claudia's pregnancy. Jason and Sam become more suspicious of Claudia's role in Michael's shooting. Claudia orders a hit on Jerry after overhearing him and Alexis. Jason tracks Jerry down thanks to Spinelli but the situation takes an explosive turn thanks to Claudia's order. Ric realizes Claudia is pregnant and implies to a nervous Claudia that the child could be his. Jerry and Jason are both injured in the explosion but Jason is in far worse shape.
General Hospital News and Headlines:
SON ALERTS: WEEK OF APRIL 27, 2009
Monday: Jax learns the truth about Carly's condition. Sonny makes a decision about Michael. Olivia warns Claudia that her date are numbered.
Tuesday: Jason's suspicions about Claudia are confirmed. Luke wants answers from Ethan. Robin agrees to get the help she needs.
Wednesday: Claudia questions Sonny's feelings for Carly. Tracy warns Luke that he's playing right into Ethan's hands. Patricks struggles with being a single father.
Thursday: Things heat up between Nikolas and Elizabeth. Luke asks Ethan to take a DNA test. Maxie comes up with a plan to win Spinelli back.
Friday: Ric puts the pressure on Claudia. Sonny and Jax remain at odds over Carly. Maxie's plan backfires in a big way.
---
"General Hospital" airs Weekdays on ABC. Weeknights on SOAPnet. Check local listings.
---