Monday, April 13, 2009 7:15 PM ET |
By Errol Lewis
---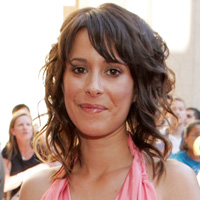 (SoapOperaNetwork.com) — On ABC's "General Hospital," Dr. Robin Scorpio recently gave birth to a baby girl, but finds herself unable to bond with her. Mother's across America suffer through the same problem day after day untreated, now the soap has joined together with Postpartum Support International (PSI) to get the word out with the hope of helping mothers everywhere.
On Thursday, April 16, immediately following that days airing of "General Hospital," look for an informative Public Service Announcement (PSA) on postpartum depression. The PSA is in conjunction with the ongoing storyline centering on Dr. Robin Scorpio (Kimberly McCullough) and her battle with the illness following the birth of her daughter, Emma, a few months ago. Robin married Emma's father, Dr. Patrick Drake (Jason Thompson) in December 2008 after three years of courting.
"As our viewers expect to be entertained each day, they also want to be educated when an important medical issue is integrated into storyline. I am sure some members of our audience are directly affected with postpartum depression or know someone who is, and we believe it is important to direct our audience to the organizations that can help them," said Jill Farren Phelps, Executive Producer, "General Hospital."
During the all important May Sweeps period, Robin will finally come to terms with her affliction and will decide to seek professional help. Later, she will join a support group that will be cast with real-life mothers who had suffered through postpartum depression.
"PSI is honored that the producers and writers of 'General Hospital' felt the topic of postpartum depression was an important one to share with their audience, " said Birdie Gunyon Meyer, RN, MA, President, PSI. "Millions of women's lives can be saved by ending the fear and isolation of sufferers and offering access to treatment resources. We are grateful to ABC Daytime [for] following up with a public service announcement and helping to raise awareness of what is truly the most common complication of childbirth."
In 1997, Carly Jacks (then played by Sarah Joy Brown) suffered through postpartum depression and went untreated. Many, including Robin Scorpio, didn't believe that Carly was suffering with the problem and attributed her lack of mothering skills to a newborn Michael Corinthos as Carly being Carly.
"General Hospital" airs Weekdays on ABC. Weeknights on SOAPnet. Check local listings.
---
Discussion: 'GH' Launches PSA on Postpartum Depression
---
General Hospital
Jason Thompson
Kimberly McCullough