Monday, February 23, 2009 2:04 AM ET |
By Errol Lewis
---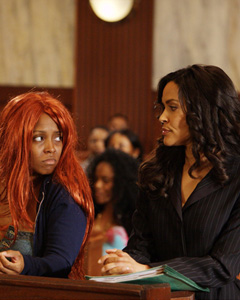 (SoapOperaNetwork.com) — Former "Port Charles" and "General Hospital" Nurse watches as "Madea Goes to Jail" tops the American weekend box-office with $41.1 million in the bank.
The film centers on Mabel Simmons, better known as Madea (Tyler Perry), who is sent to jail after a high-speed freeway chase proves Madea has anger management issues. Ion Overman, who portrayed Nurse Gabby Garza on ABC's "Port Charles" from 2000-2002 and an occasional appearance on "General Hospital," plays Assistant District Attorney Linda Holmes, who is engaged to be married to Joshua Hardaway (Derek Luke), who himself finds he still has lasting feelings for Candace (Keshia Knight Pulliam), a childhood friend turned prostitute. Whoopi Goldberg and the ladies of "The View" and Dr. Phil McGraw from "Dr. Phil" all make cameo appearances. Judge Mablean Ephriam, who appears as herself in the film, last butted heads with Madea in 2005's "Diary of a Mad Black Woman," which co-starred Shemar Moore ("The Young and the Restless," "Criminal Minds").
Opening on Friday, the movie now stands as the biggest opening weekend ever for a Tyler Perry and Lionsgate film. Perry's previous high came courtesy of "Madea's Family Reunion," which bowed to $30 million, while Lionsgate's "Saw III" slaughtered $33.6 million out of moviegoers in October 2006.
Liam Neeson continues to capture audiences with "Taken," as the film holds on in the number two spot this week with $11.4 million. "Coraline" took in another $11 million in third, while the films "He's Just Not That Into You" and "Slumdog Millionaire" round out the top five with each racking in over $8 million. Last weekends champ, "Friday the 13th," fell an enormous 81% in total receipts as it made just $7.8 million in sixth place.
All things considered, the weekend haul of $142 million represents a 29% increase in ticket sales from the year-ago week.
---
Discussion: Ion Overman Helps 'Madea' Take the Box-Office
---