Sunday, February 1, 2009 11:49 PM EST |
By Angela Rosa
---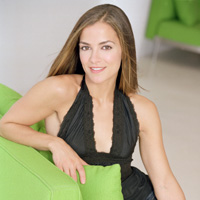 (SoapOperaNetwork.com) — Who's not going to wait to die another day in Pine Valley?
Soap death comes in sets of…six? Babe (Amanda Baker), Di (Heather Kenzie), Myrtle (Eileen Herlie) and Josh (Colin Egglesfield) are about to get some company (that's a spoiler alert for those of you that enjoy being surprised).
Laura Koffman is out as Rebecca. Jesse Hubbard's (Darnell Williams) surprise ex-wife's brain tumor isn't as stabilized as everybody thought. Jesse and Natalia (Shannon Kane) will deal with Rebecca's sudden death during the week of February 9. Koffman first appeared on "AMC" in the recurring role of Rebecca on October 28, 2008.
Wait just a minute! Don't put your best black outfits away quite yet.
Before Rebecca's (off-screen, of course) funeral can even be arranged, Greenlee Smythe finds herself in great peril when she takes off on her motorcycle into an extremely volatile situation. Rebecca Budig finished taping at "AMC" this past week. Unlike the aforementioned five, Ms. Smythe is expected to face one of those rather ambiguous deaths – remember Leo's (Josh Duhamel) exit? Although Budig's Greenlee disappears during the week of February 16, sources close to Soap Opera Network report that come March "AMC" fans can expect one more sighting of one of Pine Valley's favorite vixens.
Budig made the decision to return to "AMC" for one year during the crippling 2007 Writers' Strike. In January 2008, the Emmy-nominated actress replaced Sabine Singh who was unceremoniously bounced from the role of the cosmetics mogul after approximately nine months of service. Budig originated the role of Greenlee Smythe in August 1999 and remained in the role until November 2005.
"All My Children" air Weekdays on ABC. Weeknights on SOAPnet. Check local listings.
---
All My Children
Rebecca Budig
Laura Koffman