Saturday, January 17, 2009 11:49 PM ET |
By Venus Stone
---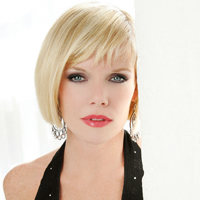 (SoapOperaNetwork.com) — A marriage of convenience…
THIS WEEK ON: AS THE WORLD TURNS
Vienna prepares to work her magic in getting Katie and Brad back together again, while Dusty advises Brad not to be an idiot in letting Craig's actions ruin what he has with his wife. Katie decides to contact Brad and the two meet at Metro to talk things through. After deciding on taking Craig out of the equation of their lives, they make up. The CBS Daytime line-up is pre-empted on Tuesday, January 20 for President-elect Barack Obama's Inauguration.
The Inside Story: Indecent Proposal
Craig's constant contact with Parker sets Jack off, who demands to know why Craig suddenly wants to be 'involved' in his son's life. Not pleased, Jack hightails it over to see Carly. The two instantly get into an argument where Jack threatens to haul Carly into court if she doesn't keep Craig away from the kids. That day at Milltown Parker tells Craig what happened between Carly and Jack, which prompts Craig into doing what he can to get Carly to 'see' him in a new light. Craig informs Carly that he is going to confront Jack to tell him to back off, but it's Janet that beats Craig to the punch when she advises Jack to stop pushing Carly's buttons. Jack later meets Carly and tells her that he's going to stay out of her business. After Jack leaves, Craig shows up and Carly thanks him for his help with getting Jack to leave her alone. Craig instantly takes credit for something he didn't do and uses it to his advantage to get Carly to say yes to his marriage proposal. That night Craig arranges everyone to arrive at Metro where he tells them that he and Carly are now engaged. Dusty, who happens to be there during the announcement prepares to depart with Johnny. Craig sees them and tries to say good-bye to the young boy but is stopped by Dusty's fist. Once alone, a livid Carly tells Craig that if he's using her just to get back at Dusty, he can forget about marrying her. He admits that it is part of reason but points out she's doing the same thing by trying to get back at Jack.
A Closer Look: Cutting Ties
In hopes of helping Paul have more of a chance to spend time with Eliza, Josie advises him to give Meg what she wants; his signature on the divorce papers. Paul finds himself going to the farmhouse and he tells Meg he will sign the papers as long as he gets to spend time with his daughter. Meg willingly agrees.
What To Watch
Emily is a witness to something she doesn't like
Jack creates some tension
Dusty gives Meg a reason to think
As the World Turns News and Headlines
Michael McCormick appears as Mr Jaggers
Ewa da Cruz and Trent Dawson will be having a book signing for The Man fromo Oakdale Saturday, January 31 at 4:00 PM at Borders located at 1260 Old Country Road in Westbury, NY
Laurence Lau (Brian) will be starring in Breaking Legs from January 9 thru February 1 at the
Riverside Theater, located at 3250 Riverside Park Drive, Vero Beach, FL. Tickets are available at Riverside Theatre
Austin Peck (Brad) and other daytime stars are set to sail on Soap Cruise, The Second Voygage, Thursday, January 22 until Monday January 26. Those interested can go to Soap Cruise or call (248) 855-7918
Julie Pinson (Janet), Michael Park (Jack) and Austin Peck (Brad) will be participating in Soap Opera Mania–On Tour. The event will begin in Macon, Georgia February 7. Visit Soap Opera Mania or call (866) 364-0330
SON Top 10: Who was the best of the best on "ATWT" during the week of January 12 – 16, 2009?  You decide! The SON Top 10 is back! Voting begins Friday's at 4:00 PM, EST.
SON ALERTS: WEEK OF JANUARY 26, 2009
Carly has cold feet while Craig can't wait to get what he wants.
Dusty's wishes are denied thanks to Paul.
Lily has it out once again with Holden about a 'certain blonde'.
Emily flashes cold hard cash to sway Jade.
"As the World Turns" airs Weekdays on CBS. Check local listings.
---
---
You may not reproduce content without written permission from author.

© 2009 Soap Opera Network. All rights reserved.
Discussion: ATWT PreVUE: Week of January 19 Edition
---