Monday, December 22, 2008 3:00 PM EST | By Errol Lewis
---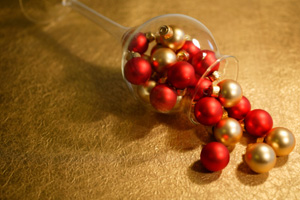 (SoapOperaNetwork.com) — The holidays are a time when family and friends gather together and feel the joy and love in the room. For daytime's remaining eight soap operas, it is a time to remember the murders and mayhem, the evil brothers and sisters or the back from the dead aunts and uncles that took up time and space over the past year of years.
During the week of December 22, the daytime lineups of ABC, CBS and NBC will be littered with re-broadcast episodes or pre-emptions of their top soaps.
ABC Daytime will air repeats of "All My Children," "General Hospital" and "One Life to Live" on Christmas Eve (December 24), while "General Hospital" and "One Life to Live" will be pre-empted on Christmas Day (December 25). "All My Children" will air a repeat episode from October.  CBS Daytime will also air repeats or pre-empt part of its soap lineup consisting of "As The World Turns," "The Bold and the Beautiful," "Guiding Light" and "The Young and the Restless" on Christmas Day, but will be in all originals on December 24. NBC Daytime and its lone "Days of our Lives" will be in originals on both December 24 and 25. All soaps return with originals on Friday, December 26.
Wednesday, December 24
AMC:

In the aftermath of the tornado Zach finds a pregnant Bianca and an unconscious Kendall in the beach house wreckage. It is revealed that Zach is the father of Bianca's child. Bianca talks about her partner, Reese, while Kendall fights for her life. Bianca goes into labor. Aidan digs through the rubble to try to rescue Greenlee and Ryan and another tornado hits. JR is forced to choose between Babe and Little A. While trapped in the rubble Adam and Erica resign themselves to dying.

(episode #9983; original air date 10/20/08).

GH: Sonny and Kate long for each other after she returns to New York. Jason watches from afar as Liz and the boys celebrate Christmas together. Carly fights the flu while spending the holiday with Sonny and their children and Jax. Maxie and Felicia continue to have conflicts over Georgie's death. Luke undergoes open heart surgery while visiting his idea of heaven (episode ##11456; original air date 12/2407).

OLTL: Brody shoots Rex. Bo and Gigi rally around Rex at the hospital as Shane worries about Brody who has been arrested. Langston, Markko, and Starr try to formulate a plan to prevent Ray from taking custody of Langston. Cole discovers Clint's plan and confronts Clint but Clint threatens Cole. Michael and Marcie yearn for each other and Marcie sings a song for her unborn child. (episode #10279; original air date 9/29/08).
Thursday, December 25
AMC: After suffering a

head injury

during the tornado K

endall flat lines, is revived but still unconscious and remembers happy times. Zach helps Bianca through labor and delivers a baby girl. Erica starts digging through the wreckage; a hand breaks through and grabs her as more rubble falls on Erica and Adam. Krystal and JR sit vigil while Angie operates on Babe but the prognosis is not good. Babe asks JR to marry her that night. Annie tells Ryan that Emma has been kidnapped. Jesse agrees to sign consent forms for Natalia's surgery admitting that she is his daughter. Angie is shocked

(

episode #9984;

original air date 10/21/08).

ATWT: Pre-empted.

B&B: Pre-empted.
GH: Pre-empted.
GL: A repeat of this summer's interrupted wedding between Reva and Josh.
OLTL: Pre-empted.

Y&R: A repeat of a classic episode from Christmas 1989.
Friday, December 26
Y&R: Michael has an extraordinary experience that teaches him how important he is to the people he loves and how different their lives would be without him (special stand-alone episode).
The 2008 Holiday Celebrations will be the first time that only eight daytime soap operas remain on the airwaves (cable or English language broadcast).
Check local listings for times and stations.
Discussion: Rinse and Repeat: Happy Holidays
---
All My Children
One Life to Live
Days of our Lives
General Hospital
As The World Turns
Guiding Light