Monday, December 15, 2008 4:00 AM EST |
By Angela Rosa
---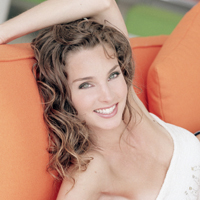 (SoapOperaNetwork.com) — "All My Children's" latest casting news.
Alicia Minshew
returns to the set of "All My Children" on Friday, January 9, according to her official fan club. Minshew's character, Kendall Hart Slater, will finally return to the land of the living at the end of January 2009.
Probably daytime's most worked actress, one of the main sticking points in Minshew's contract negotiations was vacation time particularly in relation to starting her married life; the actress married her long time beau, Richie Herschenfeld, on October 26. After re-signing earlier this fall the popular actress was allowed a well-earned, extended vacation period. Minshew begun that vacation at the end of the Friday, October 10 work-day but has since returned to pre-tape scenes on seven occasions. It would probably be advisable for Minshew to use the rest of her vacation time to rest up, the actress who was due to go on Cameron Mathison's Soap Cruise event in January had to cancel due to a grueling return schedule.
The recently re-signed
Michael E. Knight
has gotten in some vacation-time as well. Hopefully all the Knight fans caught a good glimpse of their main man, Tad Martin, on Wednesday, December 10. The character, sent on a wild goose-chase by the very bad Dr. David Hayward (Vincent Irizarry), will disappear for a cool month; will Martin's main nemesis, David, have succeeded in turning Tad's family upside down by then? You betcha!
Colin Egglesfield
returns to the air during the week of January 12. Egglesfield will reprise the role of Josh Madden for approximately two weeks before the actor and character exits the scene for good.
Tonya Pinkins
reprises the role of Livia Frye that same week. The legal eagle will tango with the Martin-Chandler-Carey-Hayward clan. Don't make much of the spotting of faces from Reese William's (Tamara Braun) past.
Frank Runyeon
last airs on Monday, December 15 as Forrest Williams, after just two episodes. The show does leave the door open for a future appearance. Fans can expect Reese's former fiancé, Simon (played by
Adam-Jon Fiorentino
), to follow the same pattern after he first premieres on Tuesday, December 30.
Elizabeth Rodriguez
has moved up from recurring to contract status. The move up in status seems odd due to the fact the actress was last seen on October 14; Rodriguez's character will make her next sporadic appearance during the week of January 5. "All My Children" air Weekdays on ABC. Weeknights on SOAPnet. Check local listings.
---
All My Children
Alicia Minshew
Michael E. Knight
Colin Egglesfield
Frank Runyeon
Tonya Pinkins