Wednesday, December 17, 2008 5:00 PM |
By Angela Rosa
---
(SoapOperaNetwork.com) – Joy to the world.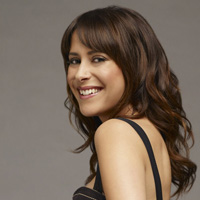 THIS WEEK ON: GENERAL HOSPITAL
Jason and Spinelli save Sam's life. Jax's plans disappoint Kate. Carly and Jax share a kiss under the mistletoe. Sonny and Morgan have a happy reunion. Carly and Sonny discuss Michael and guidelines for Sonny's future involvement with Morgan. Claudia and Ric give into their primal urges. Claudia is desperate to find the incriminating DVD. Jason asks Sonny to end his alliance with the Zacchara's. Lucky and Sam recommit to their relationship on Friday, December 26.
Santa's Helpers
On Tuesday, December 23, with Maxie at his side, Spinelli conjures up miracles for the citizen of Port Charles at Santa's bequest. Robin's greatest wish comes true as she's finally able to soothe Emma. Alan gives Monica hope. Luke, Lucky and Lulu find Laura's Christmas angel and place it on the tree.
Love In the Afternoon
Feeling he hasn't earned the honor, Robert turns down Robin's request that he walk her down the aisle. Mac and Robert have a chat. Robert asks a thrilled Robin if her offer is still open. Robin asks Anna to be her Matron of Honor. Robin, Patrick, Emma, Robert, Anna and Mac all happily gather for Christmas dinner on Monday, December 22. Luke and Robert remember old times. Robert and Anna are hit by the reality that their little girl is getting married. Robin and Patrick's wedding ceremony gets underway.
"GH" Headlines:
"GH" will air an encore presentation on Wednesday, December 24 (12/24/07) and will be pre-empted on Thursday, December 25.
SON ALERTS: WEEK OF DECEMBER 29, 2008
Monday: Jason and Sonny remain at an impasse. Jax comforts Carly on Michael's birthday. Sonny and Carly reach a new understanding.
Tuesday: A power outage draws Jax and Carly closer together. Spinelli's timing couldn't be worse. Luke wins Tracy over.
Wednesday: Encore Presentation of October 31, 2007 episode of "GH."
Thursday: Pre-emption.
Friday: Claudia scrambles to cover her tracks. Johnny finds himself on the wrong side of the law. Nikolas and Nadine make a surprising discover.
---