Thursday, October 23, 2008 3:44 PM ET |
By Errol Lewis
---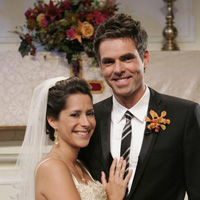 (SoapOperaNetwork.com) — A wedding to remember begins and ends with a twist.
A Closer Look: The New Tracy and Edward

You know a show is recycling storylines when the Quartermaine family story arcs are being used to further Zacchara family drama.
Sonny and Anthony are coming to terms of a united organization, but Ric wants Sonny to leave Claudia out of any deal he makes with the elder Zacchara. Meanwhile, Jason becomes concerned over what might happen if Sonny were to marry Claudia. Claudia taunts Kate with her wedding prospects, but Olivia gets in Claudia's face and later confronts Sonny.
Anthony appears to be having a stroke, and Claudia does nothing to help him. However, the good son, Johnny, can't sit back any longer and let his father die.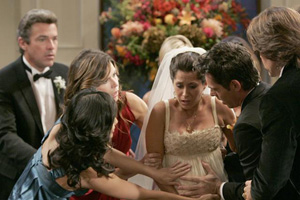 The Inside Story: Robin and Patrick Getting Married

As the countdown begins for the nuptials of Robin Scorpio and Patrick Drake, friends and family gather together to make sure things go off with out a hitch, the only problem is you can't control human nature.
Patrick makes himself scarce when Robin, Maxie and Spinelli begin working on wedding preparations. Later, he encounters Olivia, who helps him realize that he is finally getting everything he has always wanted by marrying Robin and raising a child with her. Maxie shows a rare side of herself when she explains to Spinelli why she will never get married. She then tries to persuade Jason to attend Robin's wedding. Robin finds herself glowing in perfection on her picture perfect day. Anna and Robin share a mother-daughter moment.
Although it is his wedding day, Patrick makes it clear that he still wants to make his normal rounds at the hospital before heading to the church. Unfortunately for him, Anthony Zacchara is in need of medical attention. Robin's family begin to fear the worst (that Patrick has fled town), when Spinelli notes that Patrick is no where to be found. Robin, however, is confident that her fiance will not be leaving her at the altar any time soon.
Patrick arrives just in the nick of time and the wedding ceremony begins, but a little water puts things on hold as Robin's water breaks. Will the new family live happily ever after?
What To Watch
Lulu warns Lucky and Nikolas about Scott and Laura's adventure.
Jason and Elizabeth share an idyllic moment during Robin and Patrick's wedding.
Olivia challenges Sonny.
Scott tells Laura he is going to make it his mission that she will fall in love with him again when they head to Los Angeles, which is the site of their honeymoon back in the 1970's.
Nikolas and Nadine admit their true feelings for each other.
Anthony won't let Sonny take over the business unless Sonny marries Claudia.
Jason and Sam's lives are in danger as Karpov makes a move against Sonny.
SON ALERT: WEEK OF NOVEMBER 3, 2008
Monday: Luke is hot on the trail of Scott and Laura; Carly saves Sonny from a certain death; Sam leaves Jason with clues on what she's been up to.
Tuesday: Luke and Laura are on a path of destruction; Robin worries about the babies health; Carly denies Sonny's accusations.
Wednesday: Robin's life is on the line; Sonny and Carly are unaware that Jax is watching their every move; Sam falls into Jerry's clutches.
Thursday: Laura leaves Luke with a choice: "Tracy or me?"; Sonny makes it his mission to take down Karpov; Patrick's prayers are answered.
Friday: Luke and Laura discuss their past and future; Sonny and Carly fight their temptations; Jerry reveals his devious — and deadly — plan to Sam.
"General Hospital" airs Weekdays on ABC. Weeknights on SOAPnet. Check local listings.
---