Thursday, October 23, 2008 3:41 PM |
By Scotty Gore
---
(SoapOperaNetwork.com) — Like mother, like daughter.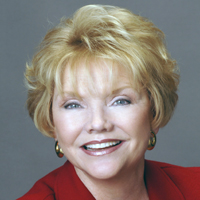 THIS WEEK ON: ONE LIFE TO LIVE
Nora presents Dorian an offer she can't refuse, Adriana gives Rex what he's been waiting for, Cole comes to terms with Marty's "death," Fish offers to aide John in his quest to find Marty,
Tess works to rid herself of Jared and Natalie permanently, Todd sprouts a conscience, and Viki arrives on Todd's doorstep in search of Tess.
The Inside Story: Deal Or No Deal?

Clint confesses to Nora that he is sorry for stooping to Dorian's level in order to regain control of BE. Nora, meanwhile, gives Dorian a choice—either return BE to the Buchanans or face criminal charges for hiring a hitman to kill Ray. Langston isn't very accepting of Clint's apology. Ray makes a shocking accusation concerning Vanessa. Antonio and Talia inform Ray that he will be returning to prison in Columbia. Langston is relieved to find Dorian at home. Cristian goes to great lengths to visit Vanessa in jail. Sarah attempts to cheer up Lola. Adriana and Dorian mend fences as she prepares to return to Paris.
A Closer Look: The Truth Is Out There

Todd's guilt increases while babysitting Bree. At Llanfair, Natalie and Jared attempt to draw attention to themselves by starting a fire in the secret room, only to be caught by Tess. Charlie tells Viki that she's being too hard on herself. Bo informs Viki and Charlie that he is confident Tess has returned, and that Todd has known for a long time. Meanwhile, Tess has murderous intentions as far as Natalie and Jared are concerned. Natalie and Jared belittle an indifferent Tess. Meanwhile, Viki confronts Todd about Tess. While confirming that she spent the night, Todd claims that both she and Bree have since left. However, Viki takes to the stairs after hearing Bree through the baby monitor. Viki comes close to discovering Marty. At the police station, John takes Fish up on his offer to hunt down Keys. Janet considers confessing to John, but changes her mind after seeing how happy Marty is. Cole and Nora reminisce about Marty. Tess decides that Natalie and Jared need to suffer as Nash did. However, she nearly collapses in pain as she puts her dastardly plan in motion. With Marty in hiding, Todd tries to throw Viki off track by spinning a web of lies about why Bree is staying with him. Afterward, Todd hides the truth again from Marty. Unfortunately, Viki refuses to leave until Tess returns. Cole reads his college essay "A Letter to My Mother" at Marty's "grave." Starr finds Cole at Marty's grave after reading the essay, which he e-mailed her. Meanwhile, Marty has another vision of the baby boy. Fish pushes John one step closer to finding Marty. Natalie and Jared beg Tess to set them free. Todd is successful in persuading Viki to return to Llanfair with Bree. Marty's imagination goes into overdrive. Viki waits for Charlie. Todd becomes even more remorseful when Marty asks him why she feels so connected to the baby boy. Cole tells Starr that he is finally able to accept Marty's death.
What to Watch
Adriana surprises Rex by requesting a divorce.
Rex and Adriana regret their actions, but part on good terms.
Bo and Gigi bring Rex back home.
Roxy deeply touches Rex by her actions.
Roxy gives Rex a piñata of childhood memories to ease his fears of being a father to Shane.
Langston helps Starr prepare for the hospital and the baby's arrival.
Starr is shocked when her water breaks.
Tina hopes Cain can again be fooled by counterfeit jewels.
SON ALERTS: WEEK OF November 3, 2008
Monday: Charlie is caught in Tess' web of lies; Todd shows Marty a picture of Starr and Cole; Dr. Joplin confronts Todd once more; Tina begs Cain for mercy.
Tuesday: Starr's call overwhelms Todd with grief; John has a tantrum when he doesn't get what he wants; Antonio doesn't believe Ray's claims about Vanessa.
Wednesday: Todd has second thoughts; Tess receives a "visit" from Niki Smith; Rex and Shane inch closer; Tina is shocked by doggie David Vickers.
Thursday: Viki's "visit" with Jean Randolph leads to a revelation; Marty helps Todd overcome the past; John makes a bold move.
Friday: Todd is unable to stop what he's already set in motion; Tina and Cain grow closer; Jessica displays a whole new side of her personality; Viki, Charlie, and Tina make a surprising discovery.
---