Wednesday, September 10, 2008 10:56 PM |
By Scotty Gore
---
(SoapOperaNetwork.com) — Blood is thicker than water, or so they say.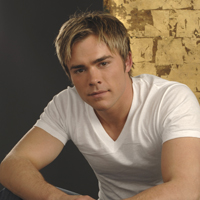 THIS WEEK ON: ONE LIFE TO LIVE
Langston's uncle Ray dampens her adoption party, Starr suffers an ironic twist of fate, John and Marty meet in their dreams, Natalie 'breaks up' with Jared, Dorian has a hissy fit, Nigel confesses his sins, Brody is in need of anger management, Rex and Gigi do the horizontal mambo, and Adriana receives a chilly reception.
The Inside Story: You Can't Choose Your Relatives, Can You?

Dorian throws a party to celebrate her upcoming adoption of Langston. At the same time, Clint explains the finer points of his plan to Ray, and gloats at Dorian's impending downfall. Later, Ray puts a dent in the celebration by crashing Dorian's party and stating that he is Langston's uncle. In Columbia, Carlo continues to make Cristian's life miserable. However, he receives an unexpected visitor in Ray's wife Vanessa, who is shocked to find Cristian in her husband's place. After recalling his plight, Cristian is successful in convincing Vanessa to contact Antonio. Back in Llanview, Tina comforts Sarah, while Bo and John find evidence that Carlo is responsible for Cristian's disappearance. While Dorian has her doubts about Ray, Langston quickly forms a bond with him as he recounts stories of her mother's childhood. Clint forgives Nigel when he reveals his role in Jared's scheme. Ray continues to carry out Clint's scheme, but appears to have genuine feelings for his niece. John gets a tip on Cristian's whereabouts when Jared states that he saw Mortimer Bern while at the Columbian prison. Dorian makes it clear to Ray that she is a force to be reckoned with. Ray's offer to take Langston back to Columbia with him is met with opposition from a suspicious Dorian.
A Closer Look: "Dear John….Life Goes On, By the Time You Read These Lines, I'll Be Gone."

Tess squeals in delight as Natalie tearfully writes Jared a "Dear John" letter. Afterward, Natalie is forced to watch in horror via the hidden camera as Jared reads the letter stating that Natalie wants nothing more to do with him. When Jared has his doubts, Tess backs up everything Natalie stated in the letter. Bo informally questions a nervous Tina, who keeps mum for fear of Tess' wrath. Natalie is sickened as she watches Tess try to put the moves on Jared. Things go even further downhill for Natalie when Tess explains phase two of her plan to her. Meanwhile, Jared informs John of Natalie's letter, and claims that something isn't quite right. Unfortunately, John arrives at a different conclusion, believing that Natalie genuinely broke up with Jared. Tess, meanwhile, gets under Todd's skin by questioning his feelings for Marty and continues to force him to do her dirty work. And Tina, at her wit's end, nearly confesses the truth to Jared, before managing to subtly point him in Natalie's direction. Tess informs Natalie that she plans to make Jared fall in love with her. Roxy thinks that love will reunite Jared and Natalie.
What to Watch
Starr and Marcie continue to bond.
Todd has Dr. Joplin under his thumb.
Starr is terrified of the first day of school.
Cole reassures Matthew about starting high school.
Starr is the object of ridicule after giving a speech on safe sex.
Cole and Markko are in hot water after coming to Starr and Langston's aide.
Rex demands a divorce from Adriana, and questions her involvement with Brody's return.
Brody flies off the handle when Gigi wants to tell Shane the truth.
Rex and Gigi realize Shane will have a difficult time handling the truth.
Brody's temper scares Marcie.
Brody won't give up Shane without a fight.
Rex and Gigi make love.
John and Marty connect once more in their dreams.
SON ALERTS: WEEK OF September 22, 2008
Monday: Brody begins to crack under pressure; Jared doesn't realize just how close he is to Natalie; Marty reassures Todd about her feelings for him; Tina apologizes to Natalie.
Tuesday: Rex and Gigi discover that Shane has been kidnapped; Dorian faces another hurdle; Todd nearly goes too far with Marty.
Wednesday: Brody takes Shane for a "camping trip" on Llantano Mountain; Clint has an offer for Dallas; Blair comes through for her daughter at school; Charlie urges Michael to give Marcie a second chance.
Thursday: Brody nears his breaking point while teaching Shane to use a gun; Carlotta prays for her son; Dorian isn't used to not getting what she wants.
Friday: Bo, Rex, and Gigi are horrified after hearing an old Navy buddy's stories about Brody; Starr, Markko, and Cole support Langston; Cole spots Clint with Ray.
---