Sunday, August 24, 2008 10:04 PM |
By Scotty Gore
---
(SoapOperaNetwork.com) — Girls just wanna have fun.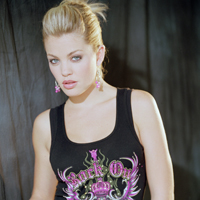 THIS WEEK ON: ONE LIFE TO LIVE
Dallas gives Nora a run for her money with regards to Clint, Rex learns he has a son, Brody plays dirty to get what he wants, Carlo and Jonas are made a laughingstock, Tina is reunited with Todd, Langston researches her family tree, and Tess and Todd form an unholy alliance.
The Inside Story: Revenge May Be Sweet, But Payback is Hell

Antonio, Sarah, and Cristian arrive at the royal palace in Mendorra as they begin their quest to rescue Talia, who has been busy rebuffing Jonas' advances. Antonio sneaks into Talia's room, while Cristian and Sarah surprise Jonas. Carlo spots Antonio in Talia's room, prompting Talia to render her father unconscious. The quad drugs Carlo and Jonas and places them in bed together. As Talia gives the press a guided tour of the palace the media spots the "lovers" in bed together.
Carlo and Jonas are left publicly humiliated. Antonio, Talia, Sarah, and Cristian's plan works much better than they anticipated.
A Closer Look: You Scratch My Back, I'll Scratch Your's

Todd maintains his composure when John stops by with a search warrant. Meanwhile Tess, thinking on her feet, fakes abdominal pains to create a distraction, which allows Todd's bodyguard to sneak Marty out of the house undetected. Afterward, however, Tess is angry when Todd refuses to display any gratitude. Tess sneaks away from Todd and John and discovers Marty hidden away in a garden shed on the property. Back in the house, John becomes aggravated when his search of Todd's house turns up empty. Upon returning to the police station, John finds Blair in his office and the pair remain obsessed over the identity of Todd's '"mystery woman." Tess can hardly fathom what Uncle Todd has been up to. Later she makes a deal with the devil as she and Todd team to keep their skeletons in the closet. Some time later, Todd encounters Tina when he stops by Llanfair to visit Tess. Todd's interest is quipped when Tina alerts him to some mysterious happenings in the basement. Meanwhile, John is more determined than ever to find whom Todd is hiding. Tess and Todd are at a crossroads, as each has no choice but to keep the other's secrets. In a moment of desperation, Todd attempts to force Jessica to emerge, only to have Tess laugh in his face. By week's end, Sam's custody hearing begins as Todd and Blair face off in court. To ensure he gets what he wants, Todd tells Marty his biggest lie yet, which results in the two getting closer. John corners Mayor Lowell into reinstating Bo to the office of police commissioner. And Tess quickly tries to cover her tracks after Leo the contractor is spotted by too many people at Llanfair.
What to Watch
In 1968, Gigi confesses to Rex that he is Shane's father, just as he is about to ship out to Vietnam.
Brody subsitiues Rex's toothbrush as his own, as he and Shane take a paternity test.
Dallas admits to Nora that she still has her eye on Clint.
Gigi's confession sends her and Rex back to 2008.
In 1968, the real Bo Buchanan heads off for Fort Bliss as history repeats itself.
Once the anger subsides, Gigi and Rex discuss how best to tell Shane the truth.
Rex reassures Gigi as they agree to take things slow.
While visiting Lindsay in jail, Bo thanks her for helping him deal with the past.
Natalie doesn't like Jared doing Clint's dirty work, leaving Jared conflicted.
Langston hires Madam Delphina to prove that she isn't alone.
Jared and Natalie suggest to Carlotta that she should hire Charlie to rebuild the diner.
Jared makes a decision about Clint's offer after arguing with Natalie.
Langston has a hard time keeping her mind off Delphina's prediction.
SON ALERTS: WEEK OF September 1, 2008
Monday: Encore of the second of the 40th anniversary episodes (which originally aired on July 22nd) in which Viki and Ben share an emotional reunion in heaven; Mel and David beg Dorian to save Viki's life; and Tina watches as history repeats itself before her very eyes.
Tuesday: Todd has an interesting proposal for Marty; Marcie and Michael remain at odds over the adoption; Tina and Roxy conclude that they have a lot in common.
Wednesday: Blair and Marcie doubt the sincerity of Todd's apology; John vows to uncover the truth; Tina's too smart for her own good; Janet quizzes Marty on her feelings for Todd.
Thursday: Tess pushes Todd to silence Tina; Natalie has a showdown with Clint; Cristian is confronted by an old adversary on his way back to Llanview; Clint and Nora argue.
Friday: Brody makes Rex the bad guy in front of Shane; Tess puts phase two of her plan in motion; Marcie is jealous of Michael and Layla's friendship.
---