Monday, August 25, 2008 6:13 AM EST |
By Errol Lewis
---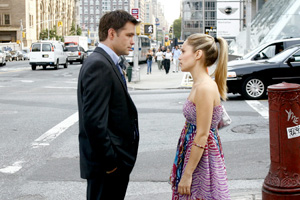 (SoapOperaNetwork.com) — New York is the center of the universe.
THIS WEEK ON: GUIDING LIGHT
Blake and Cassie have a fun girl's night out but when Cassie goes home she cries as she goes upstairs alone. Cyrus sees Cassie through the window and goes inside to comfort her. She tells him the only way he can help is by leaving town with Grady.
Natalia hears a radio report that Rafe is surrounded by police with orders to shoot to kill. Rafe surrenders to the police. Natalia arrives at the police station to see Rafe but he refuses to look at her. He is furious at Natalia and lashes out on her for turning him in. Olivia arrives at the station. Olivia reams out Rafe about Natalia and tells him if he wants to get out he needs to show Natalia respect. Rafe admits that he loves his mother and he knows she would never do anything to hurt him. Natalia goes with Olivia to get a checkup. Natalia once again talks about her faith in Alan's visions and a fed up Rick breaks the doctor-patient confidentiality by telling Natalia and Olivia the truth about Alan's health. Natalia receives news that she is able to see Rafe. Natalia tells Rafe that she called in the tip to police to help him and she tells him about Alan's illness in his brain which could be causing the visions.
Grady questions Daisy's feelings for Rafe and her reasons for being there with him. Cyrus confronts Grady about making the call to the police and is disgusted by the smug look on his face. Grady tells Daisy they can be alone in the cottage and she agrees to stay. They begin kissing and undressing. Daisy and Grady lie in bed after making love but Daisy can't get Rafe off her mind.
Jeffrey comes home and insists he and Reva wed in two days. They go to pre-wedding counseling and are shocked when Josh is their counselor. During counseling, Josh questions Jeffrey's love for Reva and comments on their lack of history together. She admits that since her cancer, she now lives her life differently. Later, Lillian visits a distracted Reva and Reva emotionally admits that she just found a mass.
The Inside Story: Lizzie in New York

Jeffrey tells Bill and Lizzie that Alan is missing. Lizzie notices Alan's passport is missing. She admits that she may not testify against Alan and explains his condition to Jeffrey. During a meeting, Josh reveals to Bill that he got a phone call from Alan who is in New York on a spiritual trip. Bill puts the pieces together and realizes that Alan is in New York trying to take over the company. Bill tells Lizzie that Alan is in New York and he makes plans to follow her to New York behind her back.
"Guiding Light" airs Weekdays on CBS. Anytime on CBS.com and Hulu.com. Check local listings.
---