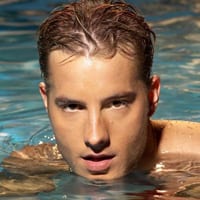 CBS Corp. and Warner Bros. Television stunned the television industry in late January, when they decided to merge their UPN and WB Television Networks to create a new and improved network called The CW in September. Now, they have stunned the industry yet again with the hiring of former "Passions" star, Justin Hartley (ex-Fox Crane) in the new untitled "Aquaman" project. Hartley replaces Will Toale."Will is a talented actor with a promising career and we hope to work with him in the future," a CW spokesman said. "We have made the decision to go in a different direction with the 'Aquaman' role and wish him the best of luck in all of his endeavors."
According to The Hollywood Reporter, the people from the UPN side of the CW began taking a look at the WB's pilot development prospects. Additionally, President and CEO of CBS Corp., Leslie Moonves, known for his interest and savvy in pilot casting decisions, weighed in on the matter and recommended that they seek a new star, though Toale was still said to be in the running to keep the role as of last week.
Joining Hartley will be Ving Rhames as McCaffery and Denise Quinones as Rachel Starling.
"Aquaman," a high-profile series in development at the WB before the CW announcement becomes one of few series from the soon-to-be defunct weblets (UPN/WB), that has a chance of landing on the CW. The series takes a modern day look at the DC Comics character.
Hartley is married to "Passions" actress Lindsay Hartley (Theresa Lopez-Fitzgerald) and the two have a daughter named Isabella.
A newcomer to the entertainment industry, Hartley joined "Passions" in 2002 as the entitled Fox Crane, who could do everything wrong and get punished for it, as long as he didn't involve the precious Ethan Crane (played by Eric Martsolf).
"Smallville" executive producers/showrunners Miles Millar and Alfred Gough penned the script and are executive producing the pilot with Greg Beeman, who is on board to direct.
The untitled project will find out if it made the cut in the CW's fall lineup in May during the CW's presentation of their fall 2006-07 schedule to advertisers and reporters in New York City.