Thursday, February 3, 2011 3:53 PM EDT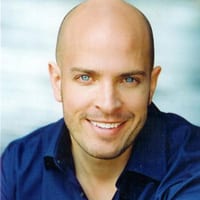 (SoapOperaNetwork.com) -- Former "General Hospital" and "General Hospital: Night Shift" actor Graham Shiels (ex-Cody Paul) is set to appear in tonights episode of CBS' "The Mentalist" as Officer Tom Rowley, who pulls over Patrick Jane (Simon Baker) as Jane's day goes from "bad" to "worse." "I try really hard to take down that smug, charming Aussie," said Shiels. "It's hard though." In addition to his role on "GH" and "GH:NS," Shiels appeared in episodes of HBO's "True Blood," NBC's "The Event" and ABC's "The Whole Truth." See below for a summary of tonight's episode and a clip of what to expect. THE MENTALIST:...
Wednesday, February 2, 2011 10:49 AM EDT
(SoapOperaNetwork.com) -- NBC's "Days of our Lives" wants you to add a little bit of Salem to the life of the person you love (or yourself) by picking up a copy of its book "Days of our Lives Forty Five Years: A Celebration in Photos." "This hard cover, full color, coffee table book will escort readers on a journey through the production day - from the first cup of coffee in the morning until the director says 'it's a wrap!'" To purchase your copy, head on over to Amazon.com.
Monday, January 31, 2011 7:07 PM EDT
(SoapOperaNetwork.com) -- Just in time for Valentine's day, ABC today announced that it has begun selling merchandise on its website showcasing the "hot guys" of its daytime soaps including Jordi Vilasuso and Trent Garrett at "All My Children," Chad Duell and Brandon Barash at "General Hospital" and John-Paul Lavoisier, David Fumero, Nic Robuck and David Gregory at "One Life to Live." Items vary from posters, postcards, greeting cards, magnets, stickers, gym bags, tote bags, coffee mugs, mouse pads, t-shirts, tank tops and yes ladies (and gentleman), even aprons. You can purchase the items exclusively at each shows store page located...
Monday, January 31, 2011 6:46 PM EDT
(SoapOperaNetwork.com) -- A Look at What's Happening on "One Life to Live" during the Week of January 31, 2011.One Life to LiveBree WilliamsonVideoPromosClips[youtube http://www.youtube.com/watch?v=ZWdcVYsK4gw&w=520&h=390]
Monday, January 31, 2011 6:14 PM EDT
(SoapOperaNetwork) -- "The Oprah Winfrey Show" is looking for fans of "All My Children," "The Bold and the Beautiful," "Days of our Lives," "General Hospital," "One Life to Live" and "The Young and the Restless" to appear on an upcoming episode devoted to the soap opera genre. The show is also looking for those that were followers of the gone but not forgotten soaps including the more recently canceled "As The World Turns," "Guiding Light," "Passions" and "Port Charles." This will be your last chance to see Oprah Winfrey cover the soap genre before her show exits the tv landscape...
Monday, January 31, 2011 4:13 PM EDT
(SoapOperaNetwork.com) -- Jordana Brewster is heading to the TNT based "Dallas" reboot according to a report by Nellie Andreeva of Deadline.com/TVLine.com. Andreeva reports that Brewster has joined the cast of the new era of "Dallas," the popular primetime soap that lasted from 1978 to 1991, which was order to pilot in late 2010 by TNT. The actress will play the role of Elena, "the the gorgeous daughter of the ranch's cook who is locked into a love triangle with Christopher and John," the sons of J.R. and Bobby Ewing stuck in a bitter rivalry over who will run the...
Sunday, January 30, 2011 8:47 PM EDT
There was a missing script in our comment system which caused comments to be tracked by the wrong ID # at Disqus, our comment management system. We are working with Disqus in re-directing comments recently posted back into our system. Please bare with us.
Sunday, January 30, 2011 7:04 PM EDT
A look at what's happening in February on "Days of our Lives"Days of our LivesGalen GeringAlison Sweeney
Sunday, January 30, 2011 5:50 PM EDT
Two weeks ago ABC's "General Hospital" made the unthinkable decision of firing popular actress Rebecca Herbst after she put in thirteen years of loyal service to the series. Unfortunately, as the General Hospital Editor for Soap Opera Network, I did not report on Herbst's firing nor did I acknowledge anywhere on the website of its occurrence. Meanwhile, during that same week it was announced that Melissa Claire Egan had made the decision to depart "All My Children" and Brittany Underwood had also been fired by "One Life to Live." Those news items did in fact go up on the...
Sunday, January 30, 2011 4:57 PM EDT
(SoapOperaNetwork.com) -- It came as no surprise late last week when word broke that CBS' "The Bold and the Beautiful" had fired demoted actor Kyle Lowder who portrayed Rick Forrester on the drama series after four years to recurring status. It was a surprise that it took so long. The actor joined "B&B" in January 2007 and while he enjoyed lead actor status on the soap for sometime, his character had become unnecessary and underutilized for more than a year now, so it was in best the interest of the soap and the actor to part pays. Lowder alluded to...
Sunday, January 30, 2011 4:04 PM EDT
(SoapOperaNetwork.com) -- As previously reported, ABC's "One Life to Live" is set to release an iTunes exclusive album called "The Sound of a Kiss" with recordings by David Gregory (Ford) and Brittany Underwood (soon-to-be ex-Langston), among others. What we know is that the albums theme is love and it will be released on Tuesday, February 8, which is just in time for Valentine's Day. While details beyond that are scarce at this time, we've been assured, however, that more details on the album are expected this week. In the meantime, here is your first look at the albums cover. One...
Sunday, January 30, 2011 3:50 PM EDT
On January 30, 2011, Soap Opera Network launched its brand new website. The website, literally re-built from the ground up, now houses the latest news, interviews and all business headlines covering the genre of soap operas. Our goal is to not just cover what's happening in front of the camera for both daytime and primetime soaps, but to also inform our readers of what's happening behind the scenes. That isn't to say the "gossip" aspect of behind the scenes drama, but the business perspective. We hope you enjoy our new look as well as the types of content we will...
Sunday, January 30, 2011 12:23 PM EDT
(SoapOperaNetwork.com) -- Last night at the 63rd Annual DGA Awards Dinner at the Grand Ballroom at Hollywood & Highland Los Angeles, veteran "One Life to Live" director Larry Carpenter won his fourth Director's Guild Award for Outstanding Directorial Achievment in Daytime Serials for his work on the ABC daytime drama series in 2010. He won for "Episode #10,687" or commonly known as " 'Starr X'd Lovers: The Musical, Part Two, " which aired on May 17, 2010. Carpenter previously won this award in 2008 for "So You Think You Can Be Shane Morasco's Father," again in 2007 for "Episode #9947,"...