Monday, April 4, 2011 2:20 PM EDT
(SoapOperaNetwork.com) -- As we reported on Saturday, April 2, ABC has now confirmed to Soap Opera Network that Lorraine Broderick has been named head writer of 41-year-old "All My Children." Broderick replaces David Kreizman and Donna Swajeski, whose contracts were not renewed by the network. Unfortunately, Broderick's escalation to the top writing position does not put a stop to rumors of "AMC's" pending cancellation despite reports to the contrary. In fact, in the rarest of instances, ABC did not include a single quote from Brian Frons, President, Daytime, Disney/ABC Television Group, or Broderick herself in the press release issued...
Friday, April 1, 2011 10:35 PM EDT
(SoapOperaNetwork.com) -- This is not an April Fool's Day joke. After weeks of rumors and more rumors, TV Guide Magazine's Michael Logan is now reporting that both "All My Children" and "One Life to Live" are in danger of being canceled by ABC. According to Logan's sources, the decision to cancel both series will be made in the coming days in order to replace them with a talk show and a reality show. Jori Peterson, Vice President, Media Relations, ABC Daytime and SOAPnet, tells Logan that "I have no announcement, and these are just rumors that you are hearing....
Friday, April 1, 2011 1:08 AM EDT
(SoapOperaNetwork.com) -- Just when you thought you'd seen the last of Genie Francis on soaps, "The Young and the Restless" wisely stepped in and snapped the actress up for a contract role on the CBS daytime drama series. According to an exclusive report by Entertainment Weekly's Lynette Rice, Francis is set to play mother to Daniel Goddard's Ethan 'Cane' Ashby. As we all remember, Cane "died" in early February after he was savagely murdered. Even so, Goddard recently began making appearances on the soap as "ghost" Cane, which has caused Lily (Christel Khalil), Cane's wife, to second guess her...
Thursday, March 31, 2011 6:33 PM EDT
On Monday, March 28, Susan Lucci visited ABC's "Good Morning America" and spoke with co-host Robin Roberts to discuss her new autobiography, "All My Life," which was released on Tuesday, March 29. In addition to her appearance on "GMA," ABC's "Nightline" aired a taped segment with the actress that same night where Lucci was followed in and around her Long Island home by ABC News correspondent Juju Chang. On the day of her books release, Lucci found time to chat with Lisa Rinna and Regis Philbin on "Live with Regis & Kelly" (Kelly Ripa had the day off), but...
Wednesday, March 30, 2011 3:43 PM EDT
(SoapOperaNetwork.com) -- If appearing on ABC's "General Hospital" and co-hosting the Academy Awards wasn't enough, you can now add Professor James Franco to the entertainers list of accomplishments. Franco received his MFA in film production last May after his hard work at New York University, and has now been given the opportunity to teach a third-year course on directing at the universities Tisch School of the Arts."He's here to teach because he really knows something about directing that he can share with our students," said John Tintori, chair of the graduate film program in a statement released to the...
Monday, March 28, 2011 1:18 PM EDT
(SoapOperaNetwork.com) -- This morning on ABC's "Good Morning America," actress Susan Lucci was interviewed by co-host Robin Roberts in promotion of her new autobiography "All My Life." The two discussed everything from her love life, her personal highs and personal lows, the coveted Emmy win and those pesky cancellation rumors currently surrounding "All My Children."In "All My Life," Roberts noted that Lucci talks about her childhood and being shy, and how she helped organize her neighborhood, but when did she know she wanted to be an actress? "Oh, I can't remember when I didn't want to be an actress,"...
Sunday, March 27, 2011 9:26 PM EDT
(SoapOperaNetwork.com) -- Soap Opera Digest is reporting that Kevin Schmidt is heading back to CBS' "The Young and the Restless," after a year's absence, to retake the role of Noah Newman from the departing Luke Kleintank. Schmidt, who joined the drama series in August 2008 and left in early 2010, most recently starred in the Cartoon Network original series "Unnatural History." The series told the story of Henry Griffin, a teenager who had acquired exceptional skills during his travels around the world with his anthropologist parents. After getting in over his head with his crazy antics, he was sent...
Sunday, March 27, 2011 2:19 AM EDT
(SoapOperaNetwork.com) -- On the Friday, March 25 edition of "Late Night with Jimmy Fallon," host Jimmy Fallon joked about reports of NBC's "Days of our Lives" going gay in the near future."The soap opera 'Days of Our Lives' is introducing a gay story line for the first time in 45 years. It's about a guy who watches the soap opera 'Days of Our Lives,'" said Fallon in the slightly hilarious bit. He was more hilarious with his joke on Twitter vs. Myspace. "An animal shelter in Illinois has put a dog named Twitter up for adoption. Meanwhile a dog...
Saturday, March 26, 2011 1:53 AM EDT
Copy/paste not allowed. Link only.(SoapOperaNetwork.com) -- Robert S. Woods joined the cast of "One Life to Live" in 1979 as Bo Buchanan. While his current role as Llanview's police commisioner brings him the honor of serving his community by protecting them with his life each and every day, it is Woods' real life work as a humanitarian that makes life most fulfilling. On Thursday, March 24, HeartShare Human Services of New York presented its 2011 Spring Gala and Auction at the New York Marriott Marquis Hotel in New York City. The event, which honors those individuals that have made...
Friday, March 25, 2011 5:27 PM EDT
Copy/Paste not allowed. Link only.(SoapOperaNetwork.com) -- Austin Peck and Terri Conn recently joined the cast of "One Life to Live." Conn in the winter and Peck in today's episode. Before getting hired on at the ABC soap, the two veteran soap stars starred on CBS' "As The World Turns" as on screen husband and wife Brad Snyder (Peck) and Katie Peretti-Snyder (Conn). In an interview with Soap Opera Network conducted at the after party for ABC Daytime Salutes Broadway Cares/Equity Fights AIDS earlier this month, the two talk about the differences of working on "World Turns" to that of...
Wednesday, March 23, 2011 11:00 PM EDT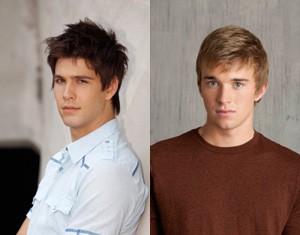 Will fans of same sex pairings finally get a true gay storyline on "Days of our Lives?" That's where it looks to be headed as Entertainment Weekly's always spot on Lynette Rice revealed in a piece posted on Inside TV that she's hearing the soap "may involve a current cast member [in a gay storyline] hooking up with someone new."
Wednesday, March 23, 2011 8:54 PM EDT
(SoapOperaNetwork.com) -- As one soap learned that its demise was nothing but premature speculation based on rumors according to its executive producer, another was celebratings its 24th anniversary on broadcast television as today, March 23, marked CBS' "The Bold and the Beautiful's" birthday.Launched on March 23, 1987 by co-creators William J. Bell and Lee Phillip Bell, "The Bold and the Beautiful" is daytime's second most watched soap opera only behind parent series "The Young and the Restless." In 2010, Guinness World Records named "B&B" the Most Popular Daytime Soap Currently on TV with an average daily viewing audience of more than...
Wednesday, March 23, 2011 5:41 PM EDT
(SoapOperaNetwork.com) -- As previously reported, the world is in mourning after news of the passing of legendary actress Elizabeth Taylor broke early this morning. Now Anthony Geary, who portrays Luke Spencer on ABC's "General Hospital" and had the honor of working with Taylor when she appeared on the soap as his character was marrying Laura Webber (Genie Francis) in the most watched television event in daytime history, shares some of his fondest memories of Taylor in a statement released by the show."Elizabeth was more than a great star, she was an amazing human being. Her world famous physical beauty...