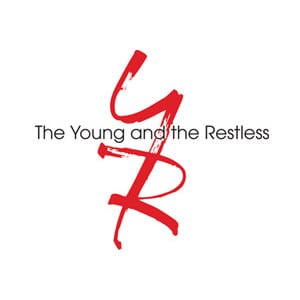 DETAILS: Cynthia Watros Takes 'Y&R's' Genoa City By Storm!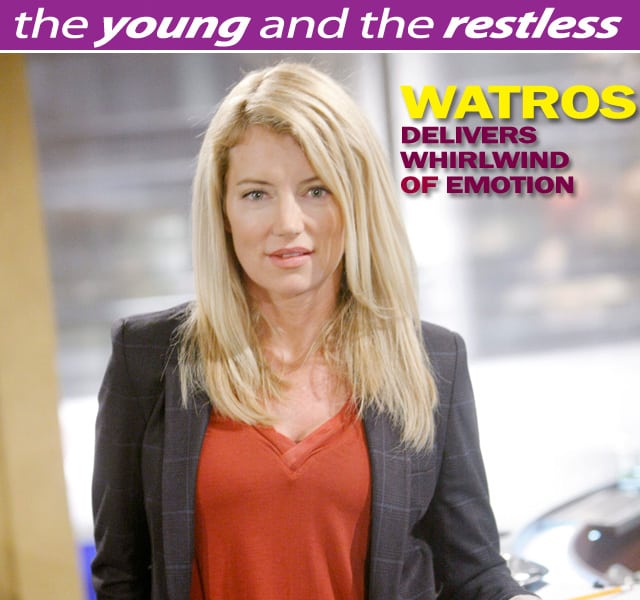 If you couldn't get enough of Cynthia Watros as "Guiding Light's" crazy Annie Dutton Banks or as "Lost's" sympathetic psychologist, Libby Smith, you're in luck: She'll be tackling an equally intense role during her upcoming stint on "The Young and the Restless."
When thinking of who to cast as Kelly, a grieving mother who lost her son and connects with Billy (Billy Miller) over the recent death of his and Chloe's (Elizabeth Hendrickson) daughter, Delia, "Y&R's" executive producer, Jill Farren Phelps, knew Watros would shine, leading her to contact the actress' agent. And as soon as the Michigan native heard the details of what Phelps had in mind for Kelly, she was sold. "I really wanted to work with Jill again… and daytime has always been very special to me, because that was my first job, on 'Guiding Light.' So I feel very happy to return," the actress says. "The characters [on "Y&R"] are rich in depth, and it's just a really well-constructed soap. So I was excited to be part of [it]."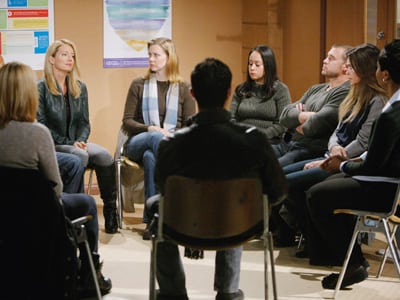 That being said, taking on the role of Kelly, who will appear in multiple episodes beginning Friday, November 15, was no easy task! "She is in this supportive, grieving group where she meets Billy," the actress explains. "She is taking a little hiatus from her teaching job because of losing her son, and I think she's just a woman trying to get back to some normalcy in her life."
It's a very emotional arc, so Watros was especially glad that Miller was such a wonderful acting partner. "He's so gracious and lovely and welcoming," she reveals, adding that he helped her navigate through the maze that is CBS. "He was very sweet to me and goes, 'Can I help you?' I think I know my way now, but he's lovely and he's so good. And it's so fun to act with him."
Miller was no doubt equally impressed by Watros, who wasn't at all phased by the new speed at which soaps are produced, even though it's been 17 years since she was last  part of the daytime scene. "You kind of know that going in, that soaps move very quickly, and you just have to know your words and make your choices before," she explains. "You can't just show up. You have to know what you're doing. And it's a wonderful thing to come back to, because I can say I can still do it, that I can make these choices on the spot and still have fun.
[pullquote_left]
JILL FARREN PHELPS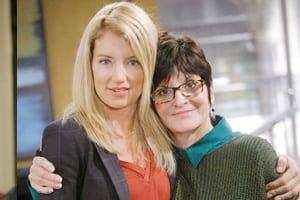 "She's a perfect combination of someone who knows what she's doing, and she's a strong woman," Watros says of Jill Farren Phelps. "She's been working in this field for a very long time, and she's welcoming and warm. When I came on ["Guiding Light"], I was such a newbie and so inexperienced, and she just carried me through my first year and showed me the ropes and was very gentle. I have a very warm spot for her."
[/pullquote_left] [pullquote_right]
MICHELLE STAFFORD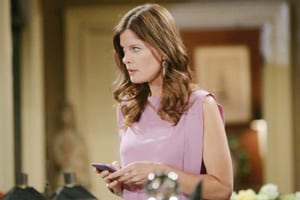 "That's a subject I can't really comment on," she says of the speculation that she was slated to replace Michelle Stafford in the role of Phyllis. "But it's interesting."
[/pullquote_right]
"When I was at 'Guiding Light,' we used to go into this huge rehearsal room and say good morning to everyone and have these big balls and big weddings that would take forever," she continues.  "I don't know if they do that so much. Or maybe it's spread out or a smaller wedding. But I still love it. I still love it. I love the quick pace."
Speaking of her "GL" days, Watros can't believe how loyal the fans are and how much they recall from her portrayal of the crazy character. "I am so thrilled that they remember Annie and that they loved her as much I did," she says. "I loved playing her. I loved 'Guiding Light 'and my whole experience there, so I'm so glad that they remember me and remember Annie with fondness. That makes me really happy."
Hopefully, Watros says, she'll have a similar experience at "Y&R." "I hope that with Kelly, I get to dive into some issues where I can just have fun like I did with Annie," she enthuses. "That would be great."
[pullquote_right]
DREW CAREY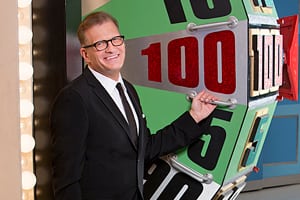 "It's funny, when I was getting lost at CBS, I stumbled upon the "The Price Is Right" set, and saw the big wheel with his picture on it," she says of her former "The Drew Carey Show" co-star, Drew Carey. "He shoots on certain days, so I'm going to leave him a note and say, 'Let's go for lunch.' I'm sure he doesn't know yet that I'm so close to him, so I need to contact him again."[/pullquote_right]
And lucky for fans, there's a real chance Watros could extend her stay in Genoa City beyond her scheduled three episodes. "I told Jill that as long as she wants me and we can work around each other's schedules, I will be happy to do whatever I can for the soap and be there as much as I can," she reveals. "I love playing all kinds of characters, so if Kelly turns out to [have] these hidden characteristics, I would love to explore that."
[quote]
WEB SERIES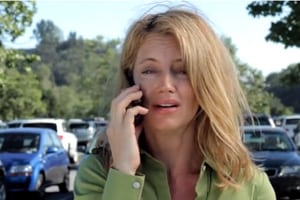 "That was just a fun little thing that I did to make fun of myself because I love comedy and it was easy to do," she says of her web series, "Cynthia Watros Gets Lost." "For the web, you can do something in one afternoon and then post it and it's so much fun to do. So those were just fun little shows that I put on when I had a little bit of down time."
[/quote]