President Donald J. Trump announced today plans to ban transgender people from serving in any capacity in the U.S. Military. The news was released via a series of tweets on his Twitter account, which has become the go-to destination for the leader of the free world to release key components of his policies. His decision, of course, was met with severe opposition from various components of government and was a leading trending topic on social media for much of the day with the hashtag #TransRightsAreHumanRights. Even soap stars past and present had something to say about the ban.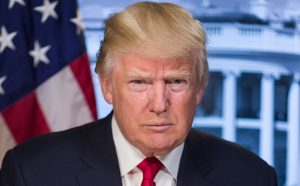 "After consultation with my Generals and military experts, please be advised that the United States Government will not accept or allow Transgender individuals to serve in any capacity in the U.S. Military. Our military must be focused on decisive and overwhelming victory and cannot be burdened with the tremendous medical costs and disruption that transgender in the military would entail. Thank you," read the full statement from President Trump.
Since posting his decision, several soap stars have taken to social media to voice their opposition to the ban. "This man is a disgusting human being– I am ashamed and embarrassed," wrote "General Hospital's" Laura Wright (Carly Corinthos).
"Days of our Lives" actor Billy Flynn (Chad DiMera) commented, "Are we still surprised he's a liar? Him and his family are the worst thing to happen to America. Or anywhere. Ever. F*** him!" Flynn, clearly angry about today's announcement, was responding to a tweet by the then presidential candidate in June 2016, where he said, "Thank you to the LGBT community! I will fight for you while Hillary brings in more people that will threaten your freedoms and beliefs."
"The Bold and the Beautiful's" Karla Mosley (Maya Avant) tweeted: "No words for the feelings I have about 45's announcement blocking Trans citizens from serving. So I'll lean on the others below."
Shown below are just some of the tweets from past and present soap stars, and the full tweet from President Trump, referring to today's ban on transgender people serving in the U.S. Military:
This man is a disgusting human being– I am ashamed and embarrassed https://t.co/UmH9Vgrv1o

— Laura Wright (@lldubs) July 26, 2017
Are we still surprised he's a liar? Him and his family are the worst thing to happen to America. Or anywhere. Ever. F*** him! https://t.co/ggntDWPb0D

— Billy Flynn (@billymflynn) July 26, 2017
No words for the feelings I have about 45's announcement blocking Trans citizens from serving. So I'll lean on the others below. #ShameOnUs

— Karla Mosley (@karlamosley) July 26, 2017
I stand with our trans community. Thank you to the 15,000 who are currently serving our country. We love and appreciate you and ur bravery!!

— Hunter King (@HunterHaleyKing) July 26, 2017
A divisive 🍊half-man undermined our military &deprived Americans brave enough 2 fight 4freedom from doing so. Sad!#TransRightsareHumanRights

— Greg Rikaart (@gregrikaart) July 26, 2017
To our transgender Americans serving in the military:
THANK YOU for your service.
You are NOT a burden.
You are heroes. 🇺🇸

— Jaymes Vaughan (@JaymesV) July 26, 2017
Through this agony in the #USA which history will recall as our Dark Ages, I stand w/ my transgender sisters&brothers #LoveAlwaysTrumpsHate

— John Wesley Shipp (@JohnWesleyShipp) July 26, 2017
https://twitter.com/realDonaldTrump/status/890193981585444864
https://twitter.com/realDonaldTrump/status/890196164313833472
https://twitter.com/realDonaldTrump/status/890197095151546369