Sydney born actor Alexander Bruszt, 32, is joining the cast of NBC's "Days of our Lives" after winning the Search for a Star casting search that began in March. Bruszt beat out fellow Aussies Andrew Steel and Tom Dalzell for the coveted contract role of Flynn, a handsome, rugged Australian doctor who arrives in Salem to do his residency, specifically to gain skills as a surgeon, working under the supervision of Doctor Jonas (Shawn Christian).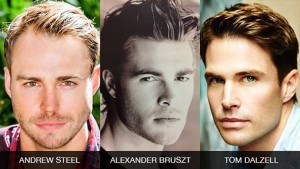 Bruszt, who resides in Australia and was flown in for a screen test earlier this month, will return to Los Angeles in May in order to begin his 13-week minimum contract role. He'll first air November culminating during the show's 50th anniversary celebrations.
"This has been the most amazing time for me. I could have only dreamed of a role like this and I am looking forward to this opportunity to work with such an incredibly talented cast and crew on such an internationally respected daytime drama," said Bruszt.
"After seeing the amazing range of talented submissions we received from Australia, we're thrilled to welcome Alexander Bruszt to our Days family. We can't wait for fans to see what kind of trouble he'll be stirring up in Salem," commented Greg Meng, co-executive producer of "DAYS."
Bruszt got his start at the age of 16 when he joined a talent agency and eventually landed a role on Australia's most popular soap "Home and Away," which has helped jump start the careers of several big Hollywood names as Chris Hemsworth, Melissa George, Simon Baker, Guy Pearce and the late Heath Ledger to name a few. His other television credits include various hosting roles including his two-year hosting role of "Super Simpsons Live" on Foxtel's FOX8 with Amy Erbacher and hosting Foxtel's RA surf show. His movie credits include lead roles in short films "Overdrawn," "The Brother," "Room With View" and supporting role in "Little Black Dress" as well as being a familiar face in over 100 commercials.