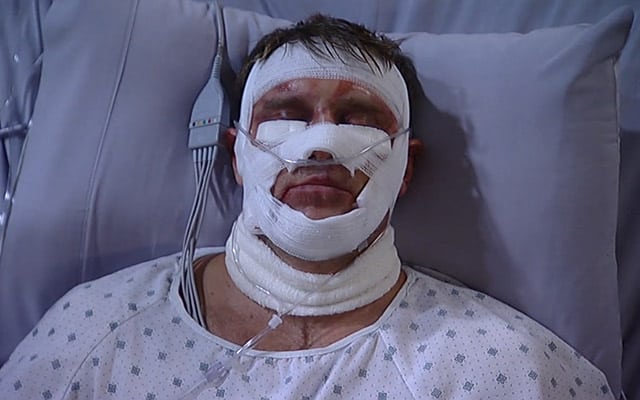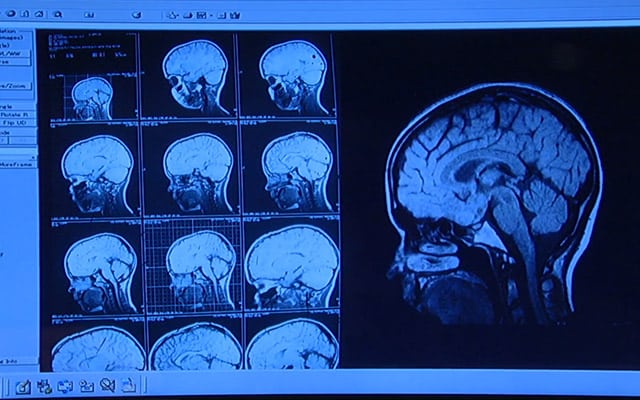 As previously reported, Wednesday, October 1 marked the first time viewers got to see three time Daytime Emmy Award winning actor Billy Miller in the contract role of Jason Morgan on ABC's "General Hospital." As a mystery man that viewers know to be Jason, John Doe is currently laying up in a hospital bed recovering from injuries sustained following his being run over by Ava Jerome's (Maura West) car in an episode aired last week. When Sam (Kelly Monaco) inadvertently enters his room when her son runs away from her to be by John Doe's side, Sam is inadvertently reunited with her husband and the father of her child, but does she realize it? Does her son, Danny?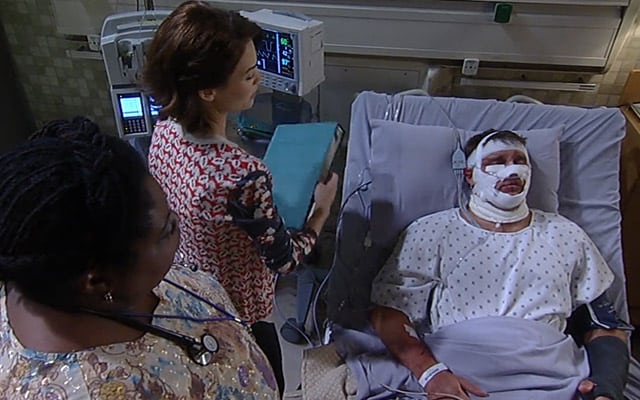 With parts of his face on display for anyone who might know him, Jason is virtually unrecognizable as Ava's car did a number on his body, which resulted in his having to have several surgeries over the course of a 36-hour period, according to Epiphany (Sonya Eddy) while speaking with Elizabeth (Rebecca Herbst), who promised John Doe when he was admitted into General Hospital that she'd be there by his side when he woke up. Sadly, she doesn't know that the man she made the promise to was once the man she loved with all her heart, even though there is something about him that just feels right. "This man's been in and out of the OR fpr 36 hours. People have been fusing together his bones and knitting together his internal organs and trying to piece back what's left of his face," said Epiphany when Elizabeth asked her how bad things were for the mystery patient. "Well, John Doe has had so much reconstructive surgery, for all we know, his loved ones could stare him straight in the eyes and have no idea who he is," she noted before adding, "He absorbed one hell of a TBI [Traumatic Brain Injury]. There's no telling what his cognitive function will be when they take him off sedation."
Deciding to get an expert opinion what the brain scans show, Elizabeth tracks down Patrick (Jason Thompson), despite his still being on suspension. When she has him look at John Doe's scans, Patrick observes that what they're seeing on the scans is "scar tissue, and lots of it. Your John Doe has had brain surgery before, and probably more than one round." He later shares his unofficial opinion to Elizabeth that "other than the old scar tissue, there's no obvious sign of brain damage… we won't know for sure unless I examine him, which I can't do."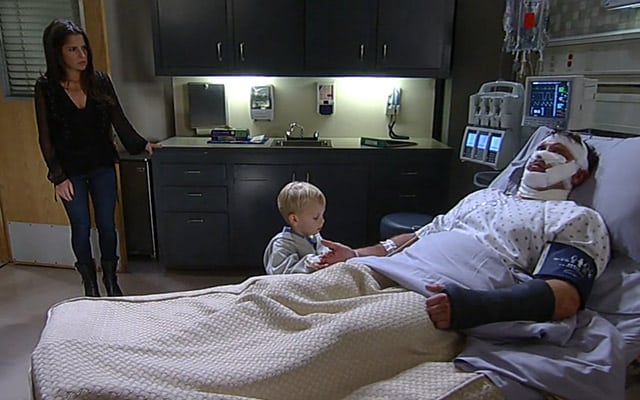 At the end of the episode, Sam follows her son, who ran into the mystery man's hospital room and took hold of his hand. To find out if Sam realizes John Doe's true identity, or where the story is headed next, tune into "General Hospital" weekdays on ABC as Jason's story continues.
Note: In an episode aired in June, Sam finally let go of her past with Jason so she could have a future with Silas (Michael Easton), but did she decide to do so too soon? Considering it looks like she's since moved on from Silas to Patrick, maybe it wasn't soon enough?