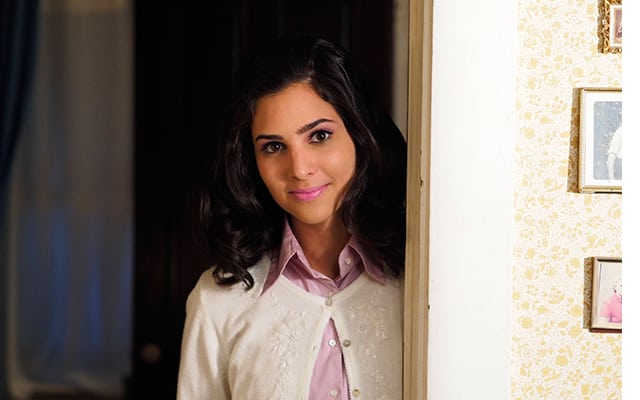 After a four year run on "Days of our Lives," Camila Banus (ex-Gabi Hernandez) has landed quite an exciting project: Starring opposite well-known stars Molly Ringwald and Chevy Chase in a new holiday movie!
Based on the New York Times best-selling Christmas novel by Wally Lamb comes "Wally Lamb's Wishin' and Hopin'," a new Christmas classic set in the 1960s that tells the story of "10-year-old Felix Funicello (Wyatt Ralff, "The Disappearance of Eleanor Rigby"), doing his best to navigate fifth grade at St. Aloysius Gonzaga Parochial School. His father (Danny Nucci,"The Fosters") runs the local diner, and their family's claim to fame is their cousin Annette Funicello (Krysta Rodriguez, "Smash"), the famous teen star and Mouseketeer. With the dreaded Christmas pageant on the horizon, the holiday season gets even more exciting with the sudden arrivals of a substitute teacher (Ringwald) and the feisty Russian student Zhenya, promising to be one Christmas Felix will never forget."
Narrated by Chase, the film — which also stars Meatloaf ("Fight Club"), Annabella Sciorra ("CSI"), Cheri Oteri ("Saturday Night Live") and Conchata Ferrell ("Two and a Half Men") — premieres on Lifetime on Saturday, December 6, at 8PM ET/PT.