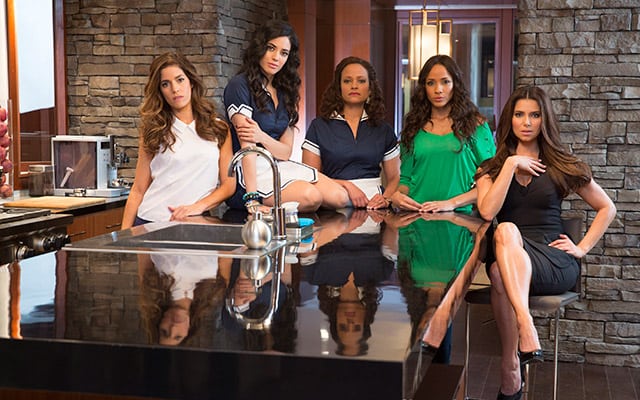 With a 13-episode order, Lifetime has renewed "Devious Maids," executive produced by Marc Cherry and Eva Longoria ("Desperate Housewives"), and starring Ana Ortiz, Dania Ramírez, Roselyn Sánchez, Edy Ganem, Judy Reyes and Susan Lucci ("All My Children"), for a third season.
"We are thrilled to be bringing 'Devious Maids' back for another season. Marc Cherry has created a uniquely twisted world that blends his comic wit with devilishly ingenious characters and plot twists," said Rob Sharenow, Executive Vice President and General Manager of Lifetime, in announcing the pickup.
Inspired by the hit telenovela, "Ellas son… la alegría del hogar" and created by Cherry, "Maids" is produced by ABC Studios and will return sometime next year with new episodes. Season three will be executive produced by Cherry, Sabrina Wind ("Desperate Housewives") and Longoria. Joining them is the creative team of Ric Swartzlander ("Cougar Town"), Brian Tanen ("Desperate Housewives"), Larry Shuman ("Kissing Miranda"), David Lonner, John Mass and Televisa USA's Paul Presburger and Michael Garcia.