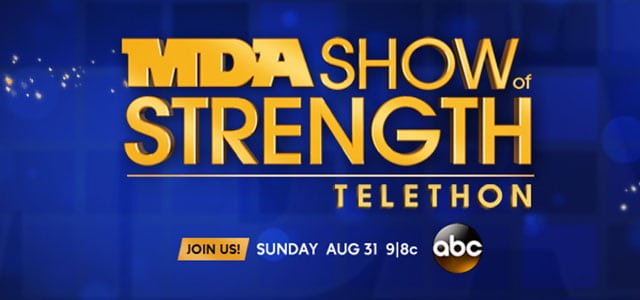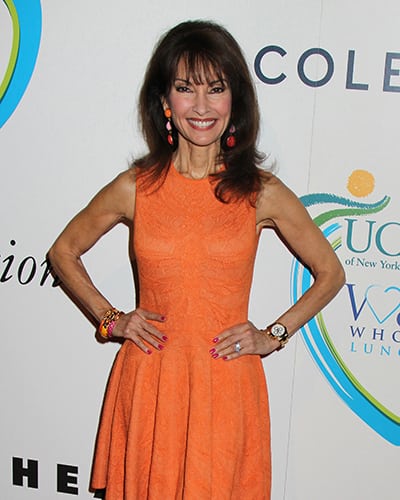 via Press Release
Now in its 49th year, ABC will air the annual "MDA Show of Strength Telethon," which benefits the Muscular Dystrophy Association, on Sunday, August 31. Celebrity presenters taking part include Alyssa Milano, Brad Paisley, Charles Esten, Chris Powell, Jann Carl, Jordin Sparks, Josh Groban, Kesha, Kevin Frazier, Laila Ali, Ludacris, Nancy O'Dell, Pete Wentz, ABC's Dr. Richard Besser, Susan Lucci, Terry Fator, Tom Bergeron and Victor Ortiz.
"MDA's telethon gives us a chance to celebrate the compassionate support of our celebrity friends, sponsors and individuals in communities across the country who give generously to help save and improve lives of those fighting muscle disease," said MDA President and CEO Steven M. Derks. "With clinical trials of potential new therapies underway, this is a time of hope and progress for the children and adults we serve. We urge families and friends to gather together on Aug. 31 to watch, whether via broadcast or online, and see the fantastic performers and inspiring stories of those who are fighting muscle disease with grace and courage."
The telethon airs Sunday, August 31 at 9:00 PM ET/8:00 PM CT on ABC.
Delivering one-of-a-kind performances of their new, hit or classic songs are Grammy® winners Rascal Flatts and LeAnn Rimes, plus Aloe Blacc, American Authors, Bret Michaels, Fall Out Boy, Jason Derulo, Matt Nathanson, R5 and Sara Evans. The long-standing Labor Day weekend tradition combines performances and celebrity presenters to engage viewers with powerful "stories of strength" and moving calls-to-action to help families affected by muscle diseases.
Next week, telethon premiere parties will take place in communities in every state in the nation to rally MDA families, sponsors and volunteers, as well as to engage new supporters. Public service and promotional campaigns to help promote the show have already started to air.
While the telethon has consistently enjoyed robust support from some of the biggest celebrities in show business, MDA says the real stars on the broadcast are the individuals and families served by MDA, including five families who will share their stories and give the public a glimpse of what it means to live with a muscle disease during the 2014 broadcast.
The complete list of family profiles includes:
JoeJoe and Dominik Stoop, two energetic brothers, ages 5 and 3 respectively, from Los Angeles who are living withspinal muscular atrophy (SMA)
Torrance Johnson, an outgoing and charismatic 8-year-old from Canton, Mich., also affected by SMA
13-year-old football fanatic Kasey Bennett of Houston who hasDuchenne muscular dystrophy (DMD)
Kate Pecora, 15, a mature young lady from North Reading, Mass., living with SMA and taking part in a promising new clinical trial
Eric Von Schaumburg, 31, from Chicago, who is battling amyotrophic lateral sclerosis (ALS) with a "take no prisoners" attitude, and help from his loving family and girlfriend Lindsay.
MDA supporters are encouraged to visit mda.org/showofstrength to enhance their telethon viewing experience. On Sunday, Aug. 31, the site will have an online telethon tote board keeping track of all donations associated with the televised fundraiser, including those made by national sponsors, direct marketing donors and through calls, texts and online donations made during the broadcast.