Don your finest and bust out a bottle of bubbly, because "Days of our Lives" is making history this week with the first ever male-male wedding to be seen on a soap opera! The important and heartfelt marital ceremony between longtime lovers Will (Guy Wilson) and Sonny (Freddie Smith) officially begins today, Tuesday, April 1, and in celebration of the very special event, Soap Opera Network snagged a few comments from Smith and Alison Sweeney (Sami Brady)! Read on for their special sneak peek into WilSon's big day!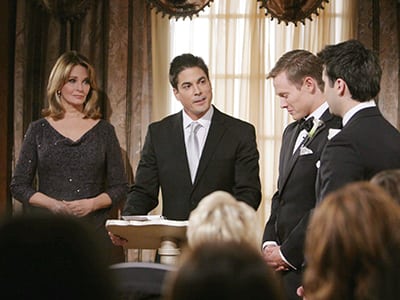 Unlike many weddings of soap operas past, it looks as if Sonny and Will's historical day will be a smooth one — touching, heartfelt and relatively free of the traditional drama that often plagues daytime characters as they approach the altar. "The wedding itself is just so beautiful," hints Smith of the ceremony. "From head to toe, everything was done so well. And I think what makes it so beautiful is the relationships, the stories, the speeches, just the overall love for one another and everyone celebrating Will and Sonny's love. It was just so beautiful."
Adds Sweeney: "I absolutely loved the way the episodes of the wedding were written… and the performances by Peggy [McKay, Caroline Brady] and Bryan [Dattilo, Lucas Roberts] really stood out for me, along of course with Guy and Freddie. It was really amazing; the way they incorporated the family was so special, and Peggy has this really beautiful monologue. She had everyone crying! And I don't want to give anything away, but Wally [Kurth, Justin Kiriakis] and Bryan also had special moments — and wow — Bryan just blew me away!"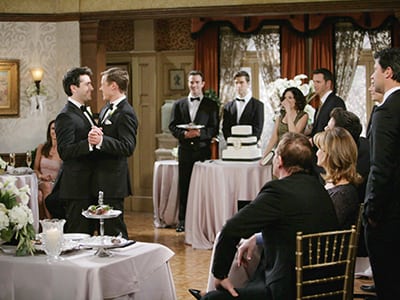 "It's really special," Smith concurs. "And being a part of it felt really cool. I've never proposed to anyone before [in real life], so these were all my firsts as well. So I was able to be nervous, because I've never gone through it, and I didn't know how it felt. And so I just kind of put that into my character and just rolled with it, and I loved what we came up with and what we did.
"I feel honestly so blessed and lucky to be a part of history and to be part of the equal rights movement," he continues. "The wedding itself is just so beautiful — the speeches, everything about it — and I can't wait to see it onscreen."
Watch for Sonny and Will's wedding, which begins onscreen today and will air through Thursday, April 3.
[slideShowProSC width="640″ height="400″ album="49″]