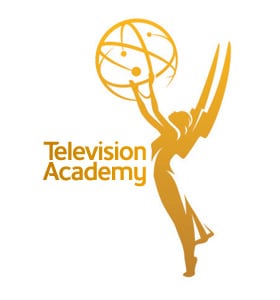 The Academy of Television Arts & Sciences (ATAS) is getting quite an impressive makeover that will not only simplify its name, but also spiff up the Emmy statuette logo! But just what other changes will this major overhaul create? Read on to find out!
With its 70th anniversary fast approaching, ATAS has decided to implement a few modernizing changes. The first is revamping its previous name to the now very simple "Television Academy." In addition, the organization enlisted the help of brand-strategy firm Siegel + Gale to update its logo (though the Emmy trophy itself will not undergo changes).
Says chairman Bruce Rosenblum of the new logo look: "[It's] a symbolic representation of where we're headed. If you look at the new image –  it's cleaner, a bit tighter and more contemporary. It was in alignment with an evaluation of our name. We looked at the name Academy of Television Arts & Sciences, and it was a bit dated, a bit old fashioned."
In fact, with that in mind, the Academy even considered dropping "television" from its name.  "After a lot of thought and discussion, what became clear to all of us [was] that while the word 'television' means something different than it did 70 years ago when our academy was founded, the word continues to haves significant resonance and importance among people who enjoy what television is – it's a reference to the content itself," the exec said to Deadline.com. "When you talk about 'watching television,' you're talking about watching 'Breaking Bad' or 'Walking Dead' or 'The Big Bang Theory' – you're not talking about the box you used to watch in your living room."
In addition to the name change and logo change, Television Academy will be undergoing an expansion of its North Hollywood headquarters and kicking off a $40 million fundraising campaign for aspiring television leaders and professionals.
"This is the most important and pivotal year in our organization's history," said Rosenblum via an official press release. "The Academy is expanding, innovating and evolving alongside the dramatic changes in our industry. The quality of storytelling in television has never been better, and the ability of our global audience to experience these stories in personal ways has been permanently enhanced by the creativity of our members and technology advances within our industry."
Editor's Note: An earlier version of this article incorrectly stated that the National Academy of Television Arts & Sciences (NATAS) — the organization that brings you the Daytime Emmy Awards each year — was changing its name. The article has been corrected to reflect that it is ATAS — the organization that brings you the Primetime Emmy Awards — that is changing its name.