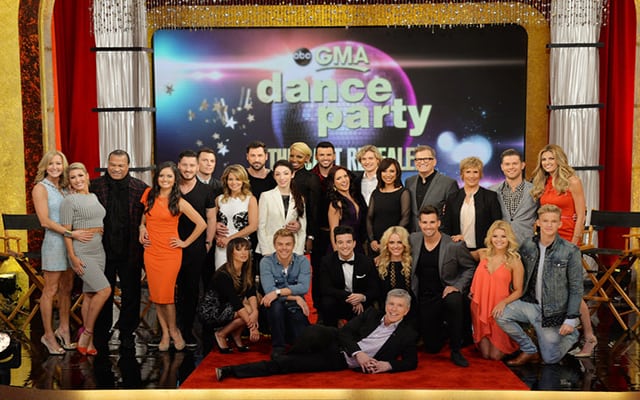 This morning on ABC's "Good Morning America," the cast for Season 18 of celebrity dancing show "Dancing with the Stars" was announced.
Among them is former "General Hospital: Night Shift" star Billy Dee Williams (ex-Toussiant DuBois), perhaps most famous for his role as Lando Calrissian in the original "Star Wars" trilogy. Williams joins a long list of soap actors who have competed on "DWTS," including previous winners Kelly Monaco (Sam Morgan, "General Hospital") and J.R. Martinez (ex-Brot Monroe, "All My Children"). He will be paired with dancer Emma Slater, who competed last season to fourth place with comedian Bill Engvall.
Also announced for Season 18 are former pro-hockey player Sean Avery, former "Full House" actress Candace Cameron Bure, "The Price Is Right" host Drew Carey, ice dancing Olympic Gold medalists Meryl Davis and Charlie White, "Real Housewives of Atlanta" star NeNe Leakes, "Big Time Rush" band member James Maslow, "The Wonder Years" actress Danica McKellar, swimmer Diana Nyad, Paralympic Games athlete Amy Purdy, and Australian pop star Cody Simpson.
It's worth noting that at 76 years old, Williams will be the oldest competitor in the ballroom this season. But he's not the oldest "DWTS" contestant to put on their dancing shoes – that honor goes to actress Cloris Leachman, who competed in Season 7 when she was 82.
This season will also introduce a new twist called "The Switch Up," where viewers will be able to vote during the season to switch up the celebrity-professional dancer pairings. Another new change this season will be the replacement of co-host Brooke Burke-Charvet – sportscaster and former "DWTS" competitor Erin Andrews will be filling in alongside longtime host Tom Bergeron.
The two-hour season premiere of "Dancing with the Stars" begins Monday, March 17 on ABC.