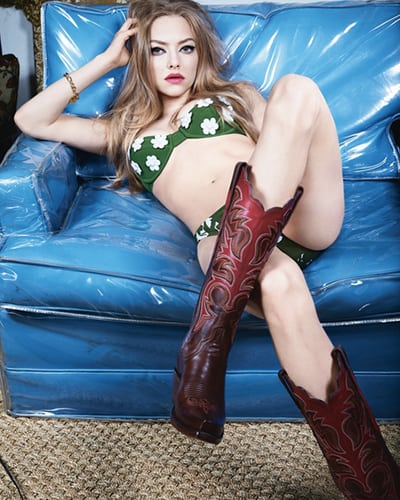 "All My Children's" Amanda Seyfried (ex-Joni Stafford) was just 15 years old when she joined the soap world as "As the World Turns'" Lucinda Montgomery, and the actress has definitely done a lot of growing up since leaving daytime and making it big in Hollywood! The "Mean Girls," "Les Miserables" and "Lovelace" star is featured in the April 2014 edition of W magazine, where she makes it very clear that she's not a little girl anymore!
In addition to discussing her upcoming films (Seth McFarlane's "A Million Ways to Die in the West," and Noah Baumbach's "While We're Young"), she dishes on having no hesitance to get a bit raunchy for a role. "Sex scenes are great," she boldy declares. "A lot of my costars have been sexy guys my age who are really respectful and cool. So, why not? I'm not going to pretend it's not fun."
As for why she keeps so busy filming and rarely takes a vacation, the 28-year-old says she's scared of being bored. "I was at a resort…and I thought, 'I should be loving this,' but I wasn't getting anything done, and that terrified me," she tells the magazine. "When I feel like I'm not accomplishing anything, I feel like I failed the day.
"I'm addicted," she continues. "Addicted and scared but never bored. I get to be other people all the time, and there's nothing dull about that."
For more from Seyfriend, pick up the April 2014 edition of W magazine.