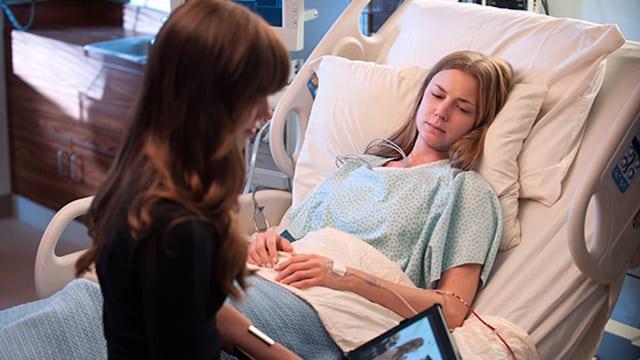 Sunday, January 5 marks the return of guilty pleasure TV with all new episodes of ABC's "Revenge," CBS' "The Good Wife" and the returns of "The Bachelor" and PBS' "Downton Abbey." Which to choose to watch? It's hard to say, but Soap Opera Network is providing you with a lowdown on what to expect on "Revenge."
In tonight's episode of "Revenge," entitled "Homecoming," allies and enemies scramble to learn what happened the night of Emily Thorne's (Emily VanCamp) wedding, while the Graysons close ranks to protect their own. But when everyone's a suspect, it's only a matter of time before they tear each other apart. Emily, who is recovering in a hospital bed after being shot by her husband, Daniel Grayson (Josh Bowman), shortly after he learned that she lied to him and she was not in fact pregnant, wakes up not remembering what happened. Emily grabs his arm and frantically asks, "Where am I?" and "Who am I?" Yes, the amnesia storyline staple of daytime television is still powerful enough for primetime.
"Revenge" airs Sundays at 9:00 PM ET/PT on ABC.