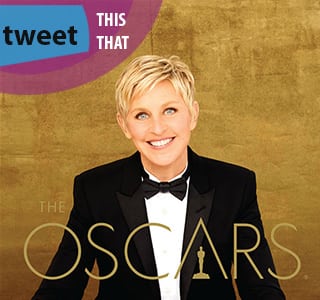 Not on Twitter? Following too many people that you're afraid you missed out on some of the best tweets? Do not fear, because "Tweet This, Tweet That" has returned!
Each week we'll compile some of the most hilarious, thought-provoking, controversial, or interesting tweets from your favorite daytime stars.
This week, your favorite soap actors past and present weigh in on the Golden Globes results and reveal their favorite Best Picture Oscar nominees!
This past Sunday, the Golden Globe for Best Motion Picture – Comedy or Musical went to American Hustle. And Alicia Minshew (ex-Kendall Hart Slater, "All My Children") was ecstatic.
"@TVGuideMagazine: Best Movie, Comedy or Musical goes to American Hustle! #GoldenGlobes" LOVED American Hustle! Yay!!!

— Alicia Minshew (@alicia_minshew) January 13, 2014
Kelley Missal (ex-Danielle Manning, "One Life to Live") was also impressed by American Hustle and specifically, star Christian Bale's performance. She thinks he may have tough Oscar competition though.
Can't they just cut the statue in half and honor Leo and Bale for best actor? #OscarNoms

— Kelley Missal (@kelleyrmissal) January 16, 2014
Likewise, her former "One Life" co-star Tonja Walker (ex-Alex Olanov) agreed about Leonardo DiCaprio's performance in "Wolf of Wall Street."
Leo was absolutely utterly fantastic in Wolf.

— Tonja Walker (@Tonjawalker) January 13, 2014
Eddie Alderson (ex-Matthew Buchanan, "OLTL") echoed that thought.
It's a joke that @LeoDiCaprio hasn't won an Oscar yet. Hoping this is his year!

— Eddie Alderson (@Eddie_Alderson) January 16, 2014
Tika Sumpter (Candace Young, "The Haves and the Have Nots") had a different Best Picture pick.
One of the best movies ever. #12YearsASlave

— Tika Sumpter (@iamtikasumpter) January 13, 2014
12 Years A Slave, which took home the Golden Globe for Best Motion Picture – Drama last Sunday, was a favorite among the Hubbards. Sal Stowers (ex-Cassandra Hubbard, "All My Children") and Denise Vasi (ex-Randi Hubbard, "AMC") shared their enthusiasm over the film's win.
So happy for #12YearsASlave Much deserved!!!!

— Sal Stowers (@SalStowers) January 13, 2014
"12 Years A Slave…" that's what I'm talking about!!! @goldenglobes

— Denise Vasi (@denisevasi) January 13, 2014
Mark Hapka (ex-Nathan Horton, "Days of Our Lives") wasn't so sure about August: Osage County, which earned Oscar nominations for stars Meryl Streep and Julia Roberts.
The anxiety this movie is giving me! August: Osage County is a feel good movie for anyone who thinks their family is highly dysfunctional.

— Mark Hapka (@MarkHapka) January 17, 2014
Former "AMC" star Cameron Mathison (ex-Ryan Lavery) seemed confused over the Oscar nominations in general.
#OscarNominations I didn't get one. Weird. pic.twitter.com/Jhb0SLHBG3

— Cameron Mathison (@CameronMathison) January 16, 2014
But it's "General Hospital" star Emme Rylan (Lulu Spencer Falconeri) who wins the Soap Opera Network Tweet of the Week, or #SONTOTW, as we like to call it.
At the moment our 2 year has seen more Oscar nominated films then we have. #shameful #Frozen #DespicableMe2

— Emme Rylan (@EmmeRylan) January 17, 2014
Do you have a topic you'd like to see covered in next week's "Tweet This, Tweet That?" Let us know in the comments below and we'll be sure to cover it!