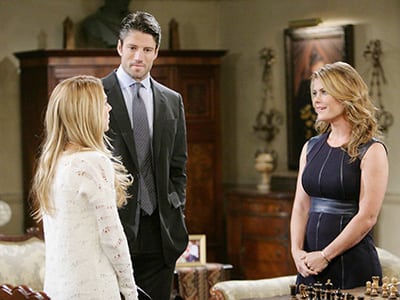 For the second week in a row, "Days of our Lives" has generated its top Women 18-49 Audience in more than two years!
According to Neilsen live plus same day numbers, the week of January 6 through the 10th saw 688,000 women 18-49, the biggest audience in that key demo since the week of November 21-25, 2011 — even a step up from last week's number, which was 669,000.
In addition, the show is up 17% in total viewers compared to this time last year, with three million viewers compared to 2012's 2.6 million.
via Press Release
It's the Second Straight Week 'Days' Has Attracted Its Top Women 18-49 Audience in More Than Two Years

'Days' is Delivering Its Best Season in Women 18-49 Viewers in Three Years and Biggest Season in Total Viewers in Four Years

UNIVERSAL CITY, Calif. – Jan. 16, 2014 – "Days of our Lives" has generated its highest weeklong women 18-49 rating and women 18-49 audience since November 2011, according to "live plus same day" viewing figures from Nielsen Media Research..

For the week of Jan. 6-10, "Days of our Lives" (1.1 rating, 6 share among women 18-49, 0.6 rating among women 18-34) tied for #5 among network daytime series in the women 18-49 demographic and tied for #6 in the women 18-34 race.

"Days" averaged 688,000 women 18-49 during the week, its biggest audience in that key demo since the week of Nov. 21-25, 2011 (703,000). The 1.1 rating is also "Days" highest since Nov. 21-25, 2011 (1.1). It's the second week in a row "Days" has attracted its biggest women 18-49 audience since November 2011 – during the prior week, 'Days' averaged 669,000 women 18-49, which at that time was the show's biggest viewership in that demo since Nov. 21-25, 2011.

For the week versus the same week last year, "Days of our Lives" was up 15% in the women 18-34 category (198,000 vs. 172,000), up 19% in the women 18-49 demographic (688,000 vs. 579,000), up 17% in the women 25-54 race (838,000 vs. 716,000) and up 17% in total viewers (3.0 million vs. 2.6 million).

Season to date, "Days of our Lives" is tied for #4 in the women 18-49 category and tied for #5 in the women 18-34 demo. Season to date, "Days of our Lives" is up 8% in the women 18-34 category (217,000 vs. 201,000), up 14% in the women 18-49 race (705,000 vs. 621,000), up 13% in the women 25-54 demo (859,000 vs. 762,000) and up 11% in total viewers (2.9 million vs. 2.6 million).

Through 16 weeks of the season, "Days of our Lives" is generating its biggest women 18-49 audience in three years, averaging 705,000 viewers, best since 797,000 at this point during the 2010-11 season. In total viewers, "Days" is delivering its biggest season in four years, averaging 2.900 million viewers, best since 3.201 million at this point during the 2009-10 season.

Ratings reflect "live plus same day" data from Nielsen Media Research unless otherwise noted. Fourth-quarter and season-to-date figures are averages of "live plus seven day" data except for the two most recent weeks, which are "live plus same day."