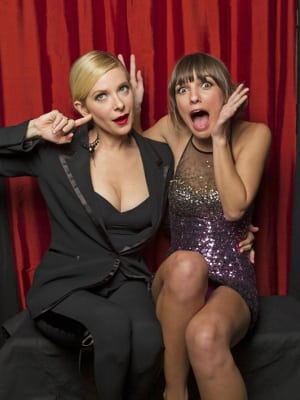 In a posting on her Facebook page, "All My Children's" Cady McClain (Dixie Cooney, pictured right with "AMC" co-star Denyse Tontz) reiterates Debbi Morgan's (Angela Hubbard) confirmation that "All My Children" and "One Life to Live" have been canceled. "If you aren't hearing anything about the ending of 'AMC' as we know it, it's really out of shock. I am also trying to allow PP to have the moment to contact all the actors and explain what is and has been going on with 'AMC,' and then gather themselves to try and explain it all to you, the fans."
She added, "I can confirm what Debbie Morgan has shared already, that we were given assurances that we would be continuing with the series and then were very recently contacted and told that, with great regret, 'AMC' won't be going back online this year, or in this particular incarnation. Certainly hope springs eternal that we will yet again, spring from the dead."
More from McClain: 
[box_alert]I do feel confident in sharing my opinion that PP and all "the powers that be" involved in making AMC and OLTL truly loved the shows and did their utmost to make continuing them possible. The premiere in NYC was one of the most exciting moments I have had the privilege to be a part of in my career. I am not privy to the behind the scenes decisions, however. Like you, I can only experience those choices second hand and guess at the reasons why this is happening now. 
Instead of going into the "What Went Wrong" question, I think I'd rather focus on the gratitude I feel for having been asked to continue with the show. If I am still wanted as an actor on daytime, it is all because of YOU, the FANS. 
I am so very grateful for your support. To have had the opportunity to be a part of an innovative experience that strived to keep American soaps alive via a new medium, to be a part of the continuing fabric of your lives through daytime storytelling, and to be able to work with dear friends who I've known all my life was a very special experience for which I have you to thank.
So THANK YOU for all the cheering, love, and support, daytime family. You've been AWESOME.[/box_alert]