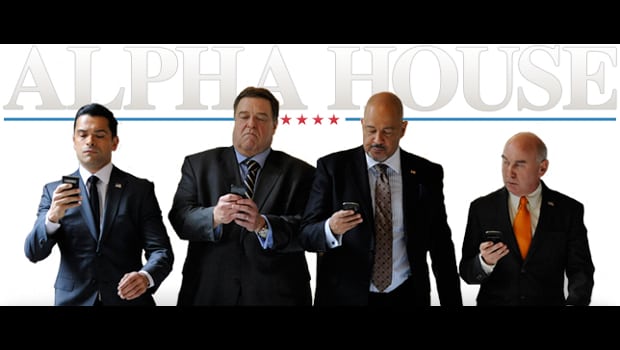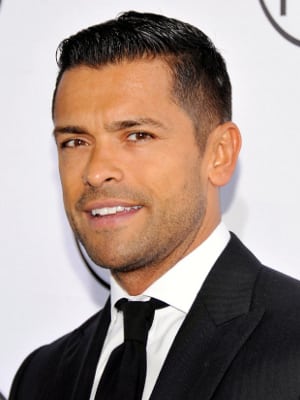 Amazon, Inc. announced today the premiere date of "Alpha House," a new comedy that features former "All My Children" heartthrob Mark Consuelos (ex-Mateo Santos) as one of four United States senators-turned-unlikely-roommates renting a house in Washington, D.C. The series, which also stars John Goodman, Clark Johnson and Matt Malloy, will premiere on Friday, November 15 with the first three of its eleven episode first season being made available to all Amazon Prime Instant Video customers online and via Kindle Fire, iPad, iPhone, Roku, Xbox 360, Playstation 3, Wii and Wii U, as well as other connected devises. In addition to announcing the premiere date for "Alpha House," Amazon also announced the launch date for its other new comedy, "Betas" – Friday, November 22, which follows four friends as they work to make it rich with a new mobile social networking application.
"Based on customers' enthusiastic response to the pilot episodes we are counting down the days until we can share more of the political and entrepreneurial exploits of our 'Alpha House' and 'Betas' characters. Our goal is to make great TV shows that customers will love and we hope they're going to love these shows," said Roy Price, Director of Amazon Studios. "We will release three episodes upfront for all customers so they can try out the shows and get to know the characters. Then we will release new episodes via Prime Instant Video week by week so that customers can chat about the shows and build up anticipation. We're constantly experimenting and trying new thing – and we're eager to hear customers' feedback on this model."
"Alpha House" was written by Academy Award nominated and Pulitzer Prize winner Garry Trudeau, who also serves producing credits with Elliot Webb and Jonathan Alter. Cynthia Nixon ("Sex and the City"), Amy Sedaris ("Strangers with Candy"), Wanda Sykes ("Curb Your Enthusiasm") and Julie White ("Go On") share in all the fun and antics of Washington politics.
"The first season is about the fight for survival among incumbent Republican senators first elected in the pre-Tea Party era. Even through they're solidly conservative, three of the four senators living in Alpha House are facing strong primary challenges from the right. The struggle to hold onto their core values drives both the comedy and the drama of our show," said Trudeau. "We think we've kept the show realistic in its essential details, while taking broad satirical liberties you might expect. We also tried to make a few political points along the way, but mostly, we wanted the show to be as much fun for the audience as we and the cast had making it."
For more on "Alpha House" or to join Amazon Prime Instant Video, click here.