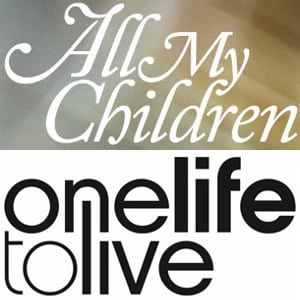 Prospect Park's The OnLine Network (TOLN) announced today that "All My Children" and "One Life to Live" will conclude their first seasons in the coming weeks. Per the network, "OLTL's" season will conclude on Monday, August 19 and "AMC's" will conclude on Monday, September 2. TOLN has also announced that future seasons of both soaps will benefit from the launch of a new, user-friendly web portal and app that will make it much easier for fans to connect with their favorite Llanview and Pine Valley citizens, which will help take them to a new level of interaction.
"We could not be more proud to have delivered a stunning season of 'All My Children' and One Life to Live,' and really thank the creative teams and cast for being true partners in this journey. Together we have tackled more business, creative, and logistical challenges than most shows experience in a lifetime of production, yet we continue to prevail with these top rated, critically acclaimed shows," said Jeff Kwatinetz, co-founder, Prospect Park. "We are prepping now for next season and have more surprises and twists and turns to deliver audiences—I am just hoping they stay on the soaps and not in our way."
More from TOLN:
TOLN's new digital destination for the network, www.toln.com, will feature dedicated series pages, enhanced video content, detailed show descriptions, cast and character pages, a photo gallery with social shopping functionality, links to the social media communities for both shows on Facebook, Twitter, Instagram, etc. and much more. The complimentary mobile app for iOS and Android will allow fans to watch full length episodes of "One Life to Live" and "All My Children," in addition to exclusive clips, interviews and behind-the-scenes footage. The TOLN app will work on iOS (3G and Retina Display) and Android devices.
The first season of "All My Children" wraps up by answering many of the seasons burning questions. Will Angie and Jesse finally bring home Cassandra after her horrific journey? Will the ordeal bring them closer or is Jesse keeping another secret that could put his family in jeopardy? Will Pete finally end up with Celia or do Colby and Opal have other plans? And what of Dimitri's feelings for Brooke? Miranda's for AJ? Zach's for Kendall? And is there a big surprise in store for Cara, JR and David about Oliver? Lots of action to come.
This season of "One Life to Live" wraps as the entire town of Llanview attends the annual Man of the Year Gala. Viki and Dorian, co-chairs of the planning committee, hope that the event will go off without a hitch. However, with the conflicts between many of the characters brewing to the surface, that looks nearly impossible. Fireworks explode and it all comes to a head with the shocking return of a fan favorite in a big way. Everything comes to a head on the season finale of "One Life to Live!"