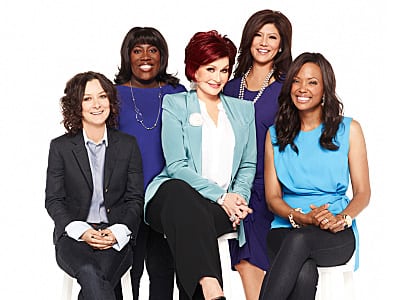 When five smart, high-powered, self-made women get together, claws generally come out and the fur flies. But that's the exact opposite of what happened when CBS's Watch! magazine recently gathered the women of "The Talk" — Julie Chen, Sara Gilbert, Sharon Osbourne, Sheryl Underwood and Aisha Tyler — together for a very candid roundtable interview.
"There are a lot of representations of women on television where they just aren't being kind to each other," Tyler says of what makes "The Talk" stand out. "Female-focused television has become antagonistic—some of the most popular shows are about women competing with each other—and I don't think there are any shows where the women are as supportive and as kind to each other."
"We're the exact opposite of everything that people are used to seeing," adds Chen. "We do not fight, we respect each other and we're very secure in who we are. I think not a lot of women on other shows, whether reality series or another format, are secure in who they are, which is why they act up."
For more from the five powerhouse women, including their thoughts about Katie Holmes, Barbara Walters and more, check out their Watch! article.