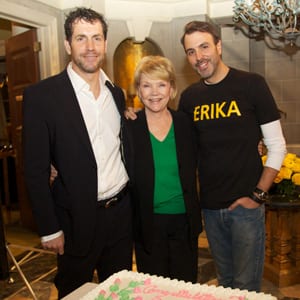 With the ABC version of "One Life to Live" now a thing of the past, and with it airing only 9 episodes during the 2012 eligibility year, one would think that the show would not have received any Daytime Emmy Award love. While the show only received 3 nominations for its ABC incarnation, 3 noms is just great!
The categories (and nominees) the show received nominations for are:
Outstanding Drama Series
Outstanding Drama Series Writing Team
Ron Carlivati, Head Writer
Lorraine Broderick, Breakdown Writer
Anna Cascio and Chris Van Etten, Associate Head Writers
Elizabeth Page, Jean Passanante, Melissa Salmons, Scott Sickles, and Courtney Simon, Script Writers
Daniel J. O'Connor, Break Down Writer & Script Writer
Katherine Schock, Script Editor
Outstanding Achievement in Multiple Camera Editing for a Drama Series
As previously reported, HLN will broadcast the anniversary celebration of the Emmys live from The Beverly Hilton Hotel in Los Angeles, CA on Sunday, June 16 from 8:00 – 10:00 PM, ET/PT. This marks the second consecutive year in which HLN has broadcast Daytime TV's biggest event.