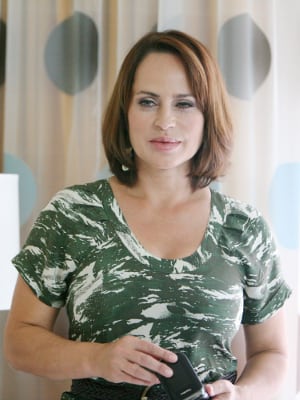 Fans who loved seeing Crystal Chappell (Gina Brogno, "Venice;" ex-Carly Manning, "Days of our Lives;" ex-Olivia Spencer, "Guiding Light") as Jane in Steve Silverman's Alfred Hitchcock-inspired series, "The Inn," are in for quite a treat: The two-time Emmy Award winning actress is reprising the role in the second season of the dark drama!
"I'm so proud of this project," Chappell says of the series, which follows the journey of a woman (Chappell) whose car breaks down off the beaten path and is forced to stay at the town's local inn. "The role fulfilled my dream of playing a Hitchcock girl kind of character."
Season two, which is set to launch on Monday, June 3, also stars Mark Gantt ("The Guild"), who says working with the cast and crew has been wonderful. "I had a blast working with Steve and Crystal," he says. "I've been a fan of both 'Pretty' [created by Silverman] and 'Venice,' so it's an honor to be working with them both."
Also set to appear in the series are Denise Alexander (ex-Lesley Webber, "General Hospital;" ex-Sister Beatrice, "Sunset Beach"), Chuck Sloan, Ray Proscia, Kyle David Pierce and Stuart Allen.
To watch all episodes of "The Inn" prior to the show's official YouTube launch, check out its official Just The Story page.